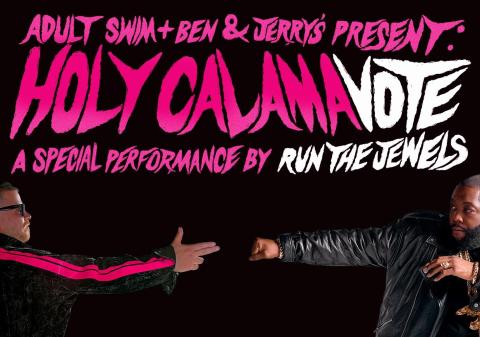 In an effort to get people out to vote, Adult Swim, the young adults animated network and ice-cream manufacturers Ben & Jerry's, have partnered to host the channel's first-ever musical performance by Grammy-nominated hip-hop powerhouse Run The Jewels. Holy Calamavote, as it is called,. will air Oct. 17 at midnight ET/PT, only on Adult Swim.
Guests include Mavis Staples, Zack de la Rocha, and Josh Homme; Eric Andre will MC.
Run The Jewels, composed of Killer Mike and partner El-P,  harken back to the golden age of hip-hop when Public Enemy and EPMD rapped about racism, police brutality and systemic barriers that nearly ensure Black Americans will never be treated equally in the U.S.
The duo's music is political, angry, and more about lyrics than hooks. They've been called a band of the times. And, after rapper Killer Mike gave an impassioned and moving speech following the death of George Floyd, an unarmed black man, at the hands of a white police officer, there were calls for him to run for office.
The pair will perform their critically acclaimed full album RTJ4. Their sociopolitical rhymes have landed them on mid-year "best of" lists (including USA Today, Time, Rolling Stone, Entertainment Weekly, NPR, Pitchfork, American Songwriter, and more).
"We're proud to be a part of this initiative to encourage and enable voting and can't wait to finally perform our album RTJ4. This will be fun," Killer Mike and El-P said in a joint statement.
The broadcast performance will also be simul-streamed on AdultSwim.com. Immediately following the broadcast, fans can watch it on the Adult Swim YouTube Channel and have the opportunity to donate to the American Civil Liberties Union (ACLU).
The American Civil Liberties Union, a nonprofit, works in courts, legislatures and communities to defend and preserve the rights and liberties guaranteed to all Americans by the Constitution and laws. ACLU lawyers have participated in hundreds of Supreme Court cases fighting for those whose rights have been violated during its nearly 100-year history. During the 1920s, the ACLU began working with the National Association for the Advancement of Colored People (NAACP) to decrease racism and discrimination. Today that fight, along with numerous other social justice issues are at the forefront of their work.
"With people marching in the streets around our country, it couldn't be more clear that justice is on the ballot this November," said Jabari Paul, the U.S. activism manager at Ben & Jerry's, in a statement. "Young people are the single largest block of voters, and if they turn out at the same rate as their parents, they have the power to hold elected officials accountable on issues like policing and public safety, climate change, education, jobs and the economy."
The U.S. election will take place Nov. 3.
Jordan Ανδρικά • Summer SALE έως -50%