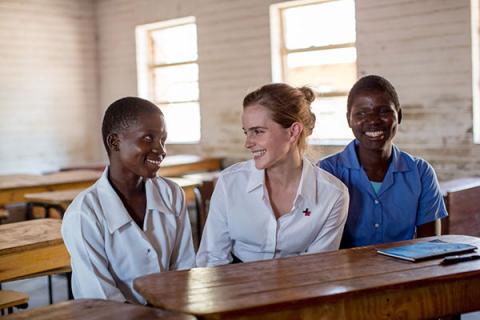 Today's the fifth annual International Day Of The Girl and the United Nations means to honour it with numbers. More specifically, the UN is using the day to put a greater focus on gathering numbers, a call for action for increased investment in collecting and analyzing girl-focused, girl-relevant and sex-disaggregated data.
While "numbers" may not be the most exciting seeming theme for an international help day, the gathering of data on girls' lives is vitally important in helping realize the obstacles they face in their daily lives.
"Girls are our sometimes-hidden change-makers of the present and future. We need to know about them, and hear their voices," said UN Women Executive Director Phumzile Mlambo-Ngcuka in an official International Day Of The Girl statement. "To know what they want and need, we need accurate, reliable, transparent and comparable gender data. Adolescent girls may share many of the same risks to their health and rights as their younger siblings or older women, but the challenges that they face are sometimes more acute, partly because they are not visible. For example, the lack of adequate civil registration and vital statistics data in developing countries means that we know very little about the number of adolescent girls giving birth each year."
"We do know, however, that girls' lives and hopes for their futures can be suddenly altered through early or forced marriage, or being drawn into the demands of unpaid care to sustain their families. Yet the known benefits to their staying securely in school, playing sports, flourishing creatively, transitioning into employment, and taking on leadership roles are increasingly under the spotlight, as are the factors that inhibit the growth of this kind of empowerment. Without data we will not know the scale of the challenge or have evidence of how to realize those benefits."
The first International Day Of The Girl took place in 2012 with the goal of improving girls' right to education/access to education, nutrition, legal rights, medical care, and protection from discrimination, violence and unfree child marriage. While International Day Of The Girl has a new theme each year (education in 2013, ending violence 2014, etc), its first-ever theme revolved around a problematic challenge that the day continues to highlight — child marriage.
According to the UN, globally, one in seven adolescent girls aged 15-19 are currently married or in union. Girls who are married early are more vulnerable to physical and sexual violence, are often pulled out of school to take on domestic responsibilities and are less able to advocate for themselves and their rights.
Emma Watson, the British actor and activist known for roles in the Harry Potter films and This Is The End, recently visited the country of Malawi to spread the message of needing to end child marriage.
"Spending the day in the beautiful country of Malawi has been a moving and inspiring experience for me," said Watson in a statement. "Meeting with young girls, who like many in their country, are struggling with poverty and were pressured into early marriage, depriving them of their education in the process, made me realize just how important it is for women to be able to make their own choices. It's so encouraging to see how such a harmful practice can be stopped when communities work together to pass laws, and then turn those laws into reality."
Some of the UN's official Day Of The Girl events taking place today include a global girl data panel in New York, the Girls Speak Out event at the UN headquarters sponsored by Working Group on Girls and the Girl Scouts of America, and a special reception event.
Watch a UN Women video on ending child marriage in Malawi
Asics Onitsuka Tiger