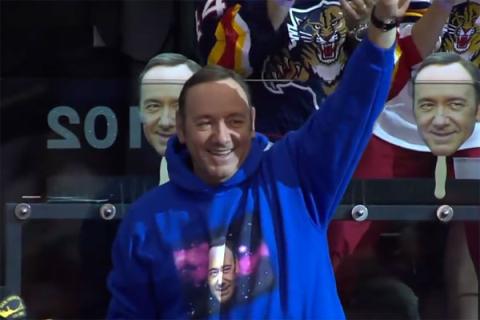 The unlikely combination of Academy Award-winning actor Kevin Spacey, National Hockey League franchise the Florida Panthers, and a disembodied photo of Spacey's head floating in space and superimposed on a blue hoodie will result in some charitable good.
"Spacey In Space," the titular blue hoodie in question, has been a sort of in-joke good luck charm for the Panthers throughout their 2015-16 NHL season. Generally, the Panthers' player of the game has been made to wear the unique looking hoodie while doing post-game interviews with media after wins. As of March 19, however, regular citizens can now get in on the Spacey In Space action because the NHL has started selling the 50 per cent cotton/ 50 per cent olyester, front-pouch-pocketed hoodie through the official NHL online store. All proceeds benefit the Florida Panthers and Kevin Spacey Foundations.
The Florida Panthers Foundation is the hockey team's charitable arm. Focusing on children and youth's health and education as well as programming to support U.S. military veterans, the foundation raises money through in-game promotions like 50/50 raffles, between period promotions and jersey and memorabilia auctions. Appropriately, the team also provides support for the actual Florida panther, an endangered big cat that some estimates suggest has less than 100 members left in the wild.
The Kevin Spacey Foundation, meanwhile, focuses on three separate initiatives: KSF Artists of Choice, a program to provides financial and mentoring support to artists and companies, KSF Learning, which executes "creative learning projects that use theatre techniques to inspire young people to be aspirational," and KSF Scholarships, which provides a select number of scholarships for theatre student at Pace University New York and Regent's University London.
The Panthers players have steadfastly refused to explain the origins of the Spacey In Space hoodie thus far. Adding to the hoodie's bizarre mystique, Spacey himself attended the Panthers' home game on March 19 versus the Detroit Red Wings. The first 10,000 fans attending the game received #SpaceyInSpace cutout replicas of the actor's face on a stick. Spacey, himself, actually hid behind one of these cutouts for portions of the game until his presence was revealed in a video on the scoreboard.
Though the Panthers lost to the Wings that night, the cosmic blue hoodie has done its job. The Panthers are currently second place in the NHL's Eastern Conference and are poised to make the playoffs.
The Spacey In Space hoodie costs $44.99 US ($58.78 CAD) and will be available in limited quantities.
Asics Onitsuka Tiger