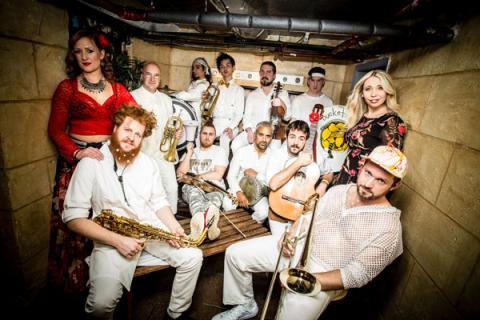 Toronto klezmer punk band Lemon Bucket Orchestra, their musical offshoots and friends will be using a pair of upcoming "Lemon-Aid" shows to support worthy causes.
Taking place at Toronto's Opera House, the Lemon Bucket Orchestra will be joined by Moskitto Bar and Moneka Arabic Jazz on Dec. 27 and by Balaklava Blues and Bangerz Brass on Dec. 28. Each act will be donating part of their performance fees from the Lemon Aid shows.
Lemon Bucket Orchestra will be giving money to Regent Park School of Music. Started in 1999, the Regent Park School of Music's goal is to give subsidized music lessons to young people aged three to 18 in Toronto's Regent Park neighbourhood as well as in other needed areas in the city. This past year the school estimates it provided lessons for over 1,000 young people.
Balaklava Blues, which features Lemon Bucket frontpersons Mark and Marichka Marczyk, will use the shows to support Help Us Help. Started in 1993, Help Us Help provides charitable assistance in Ukraine and Canada. The organization funds a broad range of programs related to humanitarian aid, education, literacy, arts and culture, social work and civil society, and, since Russia's 2014 invasion of eastern Ukraine, humanitarian aid for victims of conflict in that area.
Billing themselves "Toronto's only hip-hop brass band," Bangerz Brass feature three MCs backed by an energetic collection of horn and percussion players that can easily reach 12 members on stage. They'll be donating towards RISE Edutainment. Short for Reaching Intelligent Souls Everywhere, RISE is "a youth-led movement that has been providing opportunities and spaces for youth to develop artistically/professionally, personally, socially, and spiritually." RISE hosts events like poetry and open mic showcases and acts to provide industry support for emerging creatives.
Moneka Arabic Jazz are "original mix of Ukrainian, Balkan, Iraqi Middle-Eastern and French Celtic music" who'll be dedicating funds towards TukTuk4Freedom. TukTuks, or motorized rickshaws, have been used as on-the-ground support for Iraqi citizens in protests or situations where ambulances or supply trucks may not be able to support the people. TukTuk4Freedom uses its donations to fund Iraqi hospitals and build awareness of the continuing unsettled conditions in Iraq.
Formed in 2010, the Lemon Bucket Orchestra have distinguished themselves with a high-spirited klezmer-punk style that's equally at home on gigantic festival stages as it is on street corners and open spaces. The band have frequently participated in street protests, parades and relevant causes. Their most recent album If I Had the Strength came out in 2017.
Watch Lemon Bucket Orchestra's "Freedom" video
Wholesale Cheap Nike, Jordans, Adidas, Air Max Shoes China Sale Online