McGregor Socks first previewed its Movember socks during the Toronto International Film Festival (TIFF) at the Tastemakers' gifting lounge, where actors such Tom Ford, Gerard Butler and Jeremy Renner, got to take a home a pair of the moustache-emblazoned men's socks.
The six designs — three in stripes with a moustache and hat; and three in what they call "quirky printed" moustache and eyeglasses — are available at the Hudson's Bay, Sears and independent stores, for $12 a pair.  One dollar from each sale will be donated to the Movember Foundation in support of men's health, including mental health, suicide prevention, prostate and testicular cancer research.
"Over the years we have donated over a million socks, but this is our first time partnering with Movember," Laycee Catalano, marketing and social media coordinator, at McGregor Inductries, told Samaritanmag, at Tastemakers.
"McGregor is a Canadian company. We were founded in 1928, right here in Toronto and it's still owned by third generation family members, and our socks — Weekender and Movember — are all designed and marketed in Toronto."
The socks — which fit shoe sizes 7-12 men's — have ribbed elasticized cuffs and are made in China out of combed cotton/polyester/nylon/spandex. "They're a combed cotton mix so they are very comfortable and breathable," said Catalano.
Movember was founded in Australia in 2003 and has grown into a global movement.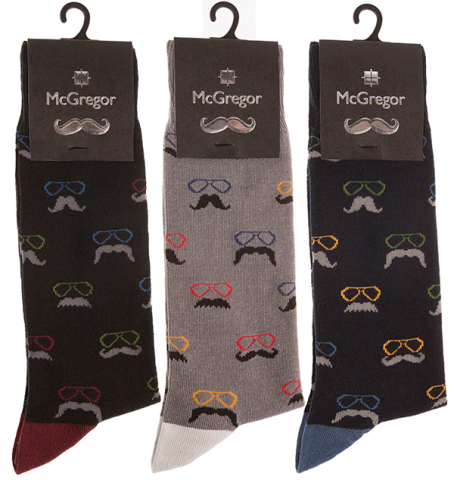 "We're the only charity tackling men's health on a global scale, year round," reads a description on Movember Foundation's web site. "We're addressing some of the biggest health issues faced by men: prostate cancer, testicular cancer, and mental health and suicide prevention.
We know what works for men, and how to find and fund the most innovative research to have both a global and local impact. We're independent of government funding, so we can challenge the status quo and invest quicker in what works. In 13 years we've funded more than 1,200 men's health projects around the world."
McGregor, nearing 90 years old, is involved with other charities throughout the year.
"We do a lot with Just Socks, which is an organization that collects socks and gives to homeless shelters," said Catalano. "We've given socks to Covenant House, Seaton House, a few others shelters and charities."
adidas Yeezy Boost 350