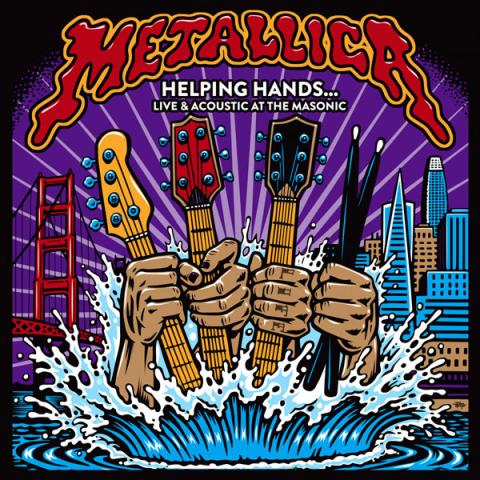 Legendary thrash metal band will be donating all proceeds from their forthcoming Helping Hands…Live & Acoustic at The Masonic towards their All Within My Hands Foundation (AWMH) charity with the goal of supporting their anti-hunger and education-related initiatives.
The band behind such heavy metal classics as "Creeping Death," "Seek & Destroy" and "Enter Sandman" will release Helping Hands…Live & Acoustic at The Masonic on limited edition, 140g colored vinyl on Feb. 1.
The songs on the album were recorded at a special benefit show the band played Nov. 3, 2018 at the Nob Hill Masonic Auditorium in their hometown of San Francisco. It featured a set list that included Metallica signature songs like "Nothing Else Matters" and "The Unforgiven," in addition to covers of songs by Deep Purple, Nazareth, Bob Seger and Blue Öyster Cult.
That event, which also included auction and contest components, raised over $1.3 million USD ($1.73 million CAD) for AWMH.
Started in 2017, the All Within My Hands Foundation is a charitable organization created by the members of Metallica and their management. The organization is "dedicated to creating sustainable communities by supporting workforce education, the fight against hunger, and other critical local services." The foundation frequently supports food banks in cities where Metallica is touring in addition to supporting the organization Feeding America.
In December 2018 the AWMH foundation also announced a partnership with the American Association of Community Colleges to provide $1 million USD ($1.33 million CAD) to provide $100,000 each to 10 different community colleges with the goal of providing scholarships to "Metallica Scholars" in traditional trades and other applied learning programs.
"All of us in the band feel fortunate that music has provided us the opportunity to be successful doing something we are passionate about," said band drummer Lars Ulrich in a statement about the Metallica Scholars. "We want to share our success with others so that they can find a job where they can do the same."
These are far from the only causes Metallica support, though. In recent years the band has supported children's charities in Sweden and music schools in Afghanistan, helped out San Francisco residents impacted by forest fires, and supported local Toronto-area food banks.
The live album is currently available for pre-sale via Metallica's website.
Helping Hands…Live & Acoustic at The Masonic track list:
Disc One / Side A
1. Disposable Heroes
2. When A Blind Man Cries
3. The Unforgiven

Disc One / Side B
1. Please Don't Judas Me
2. Turn the Page

Disc Two / Side C 1. Bleeding Me
2. Veteran of the Psychic Wars
3. Nothing Else Matters

Disc Two / Side D
1. All Within My Hands
2. Enter Sandman
3. The Four Horsemen
4. Hardwired
(Please support Samaritanmag's original journalism by making a PayPal contribution or EMT transfer using  info@samaritanmag.com so we can increase the amount of content and writers we hire. Samaritanmag is the anti-tabloid, covering good people trying to change bad things. Let's make this thing bigger than TMZ.
冬メンズコーデの参考にしたい「ジーンズ」のスナップを厳選 , メンズファッションメディア