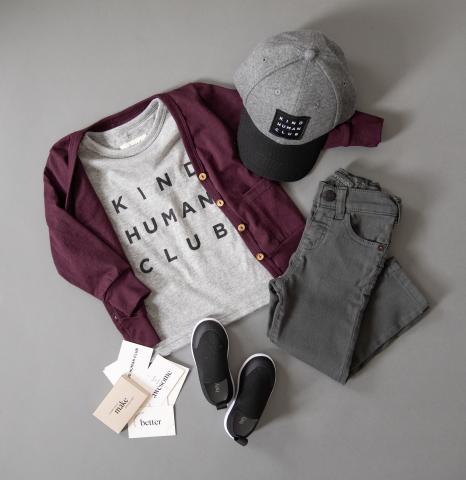 Canadian children's apparel and lifestyle brand mini mioche just launched the Kind Human Club collection with 50% of its proceeds going towards the creation of a respite area for caregivers and parents at Toronto's SickKids Hospital, via the Project Halo initiative.
The collection features t-shirts, raglan crews, and baseball caps with prices starting at $12.50 for kindness cards and $15 for a tote bag to $30 for a kids t-shirt, up to $75 for a women's crew. Donations can also be added on at check out.
Project HALO is the brainchild of Alana Kayfetz, founder of The Mom Halo, a membership-based community for mothers. The hope is to raise $1 million for the SickKids Foundation "to create spaces at the hospital designed for parents and caregivers, where they can go to connect and to process the heavy emotions of their reality caring for a sick child," according to the press release for Kind Human Club.
Kayfetz herself spent considerable time at SickKids with her young son Henry. "Being the parent of a sick child and spending the majority of your time in the hospital is literally every family's worst nightmare," said Kayfetz in a statement. "It would be very special to have a beautiful place for parents and caregivers where they can cry in private, or amongst others who understand what they are going through.
"We are on a mission with Project Halo to create a space of serenity at SickKids where they can collect their thoughts, be themselves and have a moment of tranquility, silence, reflection, mourning, grief - whatever they are going through - and help them be a little bit kinder to themselves when their world feels like it's falling apart."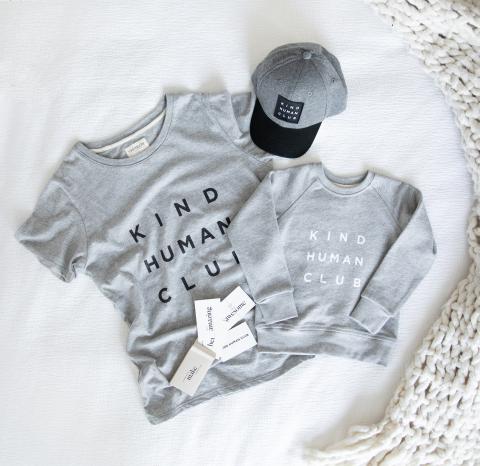 Added Alyssa Kerbel, founder of mini mioche, in her own statement: "Alana Kayfetz is someone who cheers on, supports and gives endlessly to others. She's one of the kindest humans I've met, so I knew I wanted to support her mission and help bring her vision to life."
The Mom Halo is hoping to get 1000 families to commit $1000 towards SickKids. The project started back in January and runs to the end of the year. According to its fundraising page, it has raised close to $104,000 from 532 donations.
SickKids Foundation raises funds on behalf of SickKids Hospital in Toronto and is the largest charitable funder of child health research, learning and care in Canada. Philanthropy is a critical source of funding for SickKids – one of the world's foremost paediatric health-care institutions.
"The Kind Human Club is about spreading radical acts of human kindness and how those small acts can really shift something in people and lift them up," said Kerbel. "The power of kindness is real, so we wanted to create a collection in support of Project Halo that is about joining the club of other kind humans to do good things in the world."
Mini mioche offers free shipping on all orders over $100 across Canada and the United States. All mini mioche clothing is ethically and sustainably sourced from Toronto.