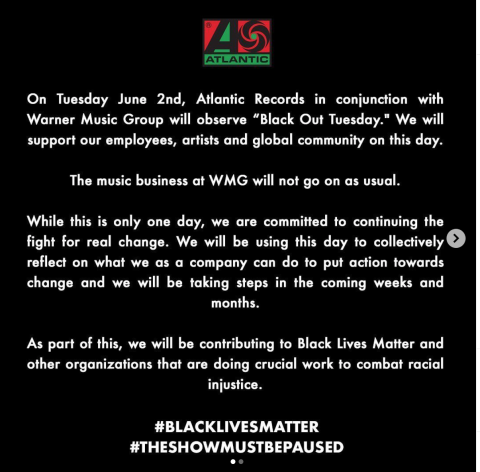 While #TheShowMustBePaused brought much of the music industry to a standstill on "Blackout Tuesday" (June 2) in response to the deaths of George Floyd, Breonna Taylor, Ahmaud Arbery and other black people at the hands of police, its two creators say it's more than a 24-hour initiative.
The concept for "Blackout Tuesday" came from Atlantic Records marketing executives Brianna Agyemang and Jamila Thomas as a way to intentionally disrupt the work week to give black people a mental health day and for allies to ponder and discuss what actions can be taken to collectively support the black community after a week of both peaceful protests and vandalism, looting and clashes with police. Their web site lays out their mission and "what you can do."
The multi-billion-dollar music industry has profited greatly from black artists, and the mission of #TheShowMustBePaused is to hold those who've benefitted from their efforts accountable.
"It is the obligation of these entities to protect and empower the Black communities that have made them disproportionately wealthy in ways that are measurable and transparent," said a message on the #TheShowMustBePaused website, which includes an approach and intervention page, and path forward.
Among the music industry companies and organizations supporting Blackout Tuesday were Warner Music Group, Sony/ATV Music Publishing, Sony Music, BMG, Spotify, ASCAP, Def Jam Recordings, Interscope Geffen A&M, Columbia Records, Island Records, Capitol Music Group, Republic Records, Glassnote Music, Epic Records, Universal Music Publishing Group, RCA Records, AEG Presents and Paradigm Talent Agency.
Agyemang and Thomas have vowed that they're "in this fight for the long haul" and will issue an action plan to further their goals beyond making a one-day statement.
To start, they've listed a number of resources for people who want to contribute to the effort on the #TheShowMustBePaused website.
The Official George Floyd Memorial Fund was established to cover funeral and burial expenses, mental and grief counselling, lodging and travel for all court proceedings, and to assist the family in the days to come as it continues to seek justice for Floyd, who died on May 25 when Minneapolis, Minn. police officer Derek Chauvin knelt on his neck for almost nine minutes and three of his colleagues didn't stop him.
Chauvin has been charged with third-degree murder and there have been widespread calls that the other three officers should also be arrested. All four men have been fired.
A portion of the proceeds from the fund will also go to the estate of Floyd for the benefit, care and education of his children.
The fund had an initial goal of $1.5 million, but more than 420,000 donors had raised $10.96 million in just six days as of June 2.
Breonna Taylor was an emergency medical technician who was shot eight times in her home by police in Louisville, Ky. on March 13 as they executed a search warrant for drugs they never found.
Taylor's family and supporters have created a list of six demands to try to get justice for the young woman. A website has been created that includes links to a number of ways to try and achieve this.
Ahmaud Arbery was shot and killed on Feb. 23 in Brunswick, Ga. in what's been called a case of racial profiling. Three men have been charged in his death.
A GoFundMe page was established to assist Arbery's mother and her immediate family with financial support and to assist their efforts in seeking justice. An initial goal of $100,000 has been far surpassed, as 48,300 donors had contributed $1.38 million as of June 2.
A donation page has been set up to fund more than 55 bail funds, mutual aid funds and activist organizations as a means of supporting people who've been arrested during protests that have taken place across the United States since Floyd's death.
The Movement for Black Lives (M4BL) was created in December 2014. It seeks to reach, mobilize and organize people so that black political power becomes a force that's able to influence national and local agendas.
M4BL has a number of policy platforms and designated the first week of June as a week of action in defense of black lives, with a different demand for each day. Those interested can make donations and sign a petition on the M4BL website.
Until Freedom is an intersectional social justice organization rooted in the leadership of diverse people of colour to address systemic and racial injustice. It focuses on building grassroots campaigns and investing in those who are the most directly impacted by cyclical poverty, inequality and state violence.
The #TheShowMustBePaused site also has a link to a document with an extensive list of links to anti-racism resources and information "intended to serve as a resource to white people and parents to deepen our anti-racism work."
AIR MAX PLUS