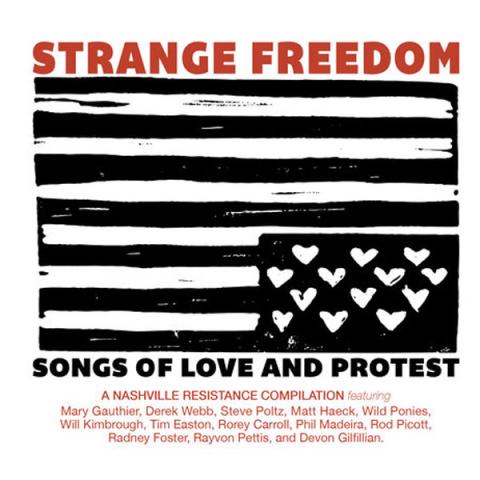 A Nashville record company has gathered together 13 acts for an anti-President Donald Trump compilation created to support Planned Parenthood.
Cafe Rooster Records' will dedicate all proceeds from its just-released Strange Freedom - Songs of Love and Protest album to the Nashville chapter of Planned Parenthood. The compilation features a number of local Nashville acts like Jewel collaborator and secret Canadian Steven Poltz,  all-star songwriter Phil Madeira (Garth Brooks, Toby Keith, Bruce Hornsby) and author/songwriter Mary Gauthier.
Planned Parenthood, the health organization that provides vital reproductive health care, sex education, and information to millions of people worldwide, has been a target for a Trump government that wants to eliminate funding for the organization. As the threat against Planned Parenthood has increased, so has resistance to the U.S. president's initiative.
The compilation took shape when Matt Haeck was helping produce emerging act Rayvon Pettis' song "Lailly and Abdullah" about two starcrossed Afghani lovers. Inspired by the song, Haeck booked two days at John Prine's Butcher Shoppe recording studio in Nashville and invited any acts who had "resistance" songs to come take part in a marathon recording session for the project designed to address Trumps policies and modern tragedies they're causing. Cafe Rooster says Haeck wanted to come up with "a new way to resist Trump's regime."
"Love is protest," Haeck said in a release on the Cafe Rooster site. "Protest is love. That's what I realized. I love people and I see vulnerable people getting trampled on. As someone who's been privileged not to be affected by oppression, I feel responsible to do what I can to fight against it when I see it."
"We all can do something. Take what you do already and apply it. I figured, I know how to make records and music, what if I just applied this on as big a scale as I could."
Strange Freedom isn't the only campaign the Cafe Rooster roster has taken up in recent years. They're also responsible for Relief Retreats, which supports the work of Dr. Tracy Jackson, a pain specialist at Vanderbilt University, and Safpaw, a campaign to support Nashville's homeless individuals, families and their pets.
Strange Freedom - Songs of Love tracklist:
1. Radney Foster – All That I Require
2. Devon Gilfillian – Use Your Words
3. Tim Easton – News Blackout
4. Mary Gauthier – Mercy Now
5. Matt Haeck – America's Watching TV
6. Rayvon Pettis – Lailly and Abdullah
7. Steve Poltz – Hey God
8. Phil Madeira – Give God the Blues
9. Derek Webb – Savior on Capitol Hill
10. Rorey Carroll – When the Wind Breaks Your Knees
11. Rod Picott – Coal Mine
12. Will Kimbrough – U Can Do Anything (Trump's Blues)
13. Wild Ponies – Love is not a Sin
Kyrie Irving Shoes