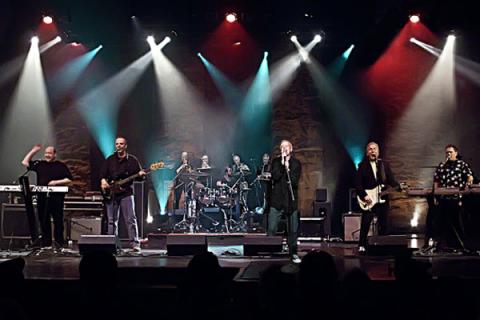 It's going to be one fine evening when classic rock ensemble Lighthouse receive their designation as honorary members of the Royal Conservatory on May 15 in Toronto, as part of The Royal Occasion, the esteemed music education institution's signature fundraising gala.
Individual tickets are $1,500 and tables $20,000.
Lighthouse, known for epic rock-psych hits as "Sunny Days" and "One Fine Morning," will be receiving the honour for making "an extraordinary impact on society through their contributions to the arts."
The honour comes almost 50 years to the day from the 13-piece rock orchestra's debut concert on May 14, 1969 at The Rock Pile, introduced by Duke Ellington. Other accomplishments include four Juno Awards, nine gold albums and the receipt of Canada's first platinum-selling album.  The group will perform a sold-out show May 14 at Toronto's Koerner Hall, which will be live streamed.
The current 10-piece lineup, fronted by Dan Clancy (Skip Prokop was the original singer), includes founding members Paul Hoffert (keyboardist), Ralph Cole (guitar) and Russ Little (trombone), alongside Chris Howells (trumpet), Simon Wallis and Steve Kennedy (saxophones), Don Paulton (keyboards) and Doug Moore (bass).
Also receiving honorary member designation at the Royal Occasion Gala will be classic piano duo Anagnoson & Kinton and the BMO Financial Group for outstanding philanthropy.
Past musicians who've been honoured by the Royal Conservatory include David Foster, Leon Fleisher, k.d. lang, Jon Kimura Parker, Oscar Peterson, and The Tragically Hip.
"Lighthouse and Anagnoson & Kinton have inspired countless individuals through their performances and recordings. The enlightened support of BMO Financial Group has had a transformational impact on artists and organizations across Canada. Their Honorary Fellowships are richly deserved," said Dr. Peter Simon, Michael and Sonja Koerner President & CEO, The Royal Conservatory of Music, in a statement.
Begun in 1886, The Royal Conservatory is one of the largest and longest running music education institutes in the world. In addition to the numerous levels of training programs the conservatory provides, it also conducts research into the links between music and various successes. One recent research paper explored the connection between musical study and improved cognitive abilities, showing that taking music lessons tends to increase language abilities in children.
On their donation page, it explains "For generations, The Royal Conservatory's work has brought the joy and benefits of music and the arts to people of all ages and backgrounds. In 2010 alone, our broad-based programs and initiatives impacted the lives of over 500,000 Canadians across the country.
"With your help, we will be able to enhance our programs and expand our reach to enrich the lives of more individuals than ever before.With numerous ways to give and a broad range of programs and priorities available to support, you can make a personal and meaningful donation to The Royal Conservatory. Your gift in any amount will make a difference."
Watch Lighthouse performing Leonard Cohen's "Tower Of Song" for Cohen
(Please support Samaritanmag's original journalism by making a PayPal contribution or EMT transfer using  info@samaritanmag.com so we can increase the amount of content and writers we hire. Samaritanmag is the anti-tabloid, covering good people trying to change bad things. Let's make this thing bigger than TMZ.)
nike mens air prestige iii 3 low grade gold coins