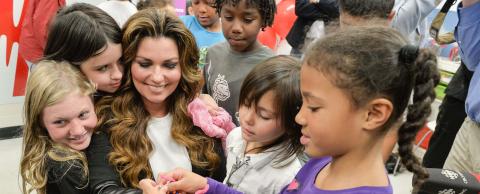 In conjunction with her current tour to support her album Now, Canadian pop and country sweetheart Shania Twain is launching a text-to-donate campaign on behalf of her Shania Kids Can Foundation.
Through Aug. 6, if you're in North America and text 'SHANIA' to 20222, a $10 donation will be made to the charity, which was established in 2010 to offer support and expand program offered to students via Shania Kids Clubhouses through the Canada and the U.S.
Shania Kids Can promotes positive change by working with North American elementary schools that deliver programs taught by qualified pros to support and provide stability to vulnerable children. [Read Samaritanmag's interview with Twain from Sept. 2017]
"My hope is to expand SKC programs to help support children who are facing challenges in their daily lives," said Twain in a statement. "Through the SKC programs, we've witnessed improvement in the general health and well-being of the children. These kids are achieving higher academic marks, demonstrating improved social skills, and have an overall better attitude towards school.
"We support these children at a primary age and teach them how to become responsible, confident, and proactive members of their school community," she adds.  "These children will grow to be adults who are in a better position to succeed and contribute positively to society."
The program also provides children with one-on-one consultations, group activities, meal programs and snacks in a safe, confidence-building environment.
The singer is attempting to help reverse studies that show that by the age of three, children in low-income households underperform in cognitive tests.  According to statistics offered in the press release, those who live in impoverished situations are likely to have weaker academy and health outcomes, higher anxiety and stress than those who live in affluence, with 33 percent in poverty remaining in low income situations.
The Foundation reflects part of Twain's own impoverished upbringing, overcoming obstacles to become country music's top female selling artist with over 90 million albums sold.
The fund is managed by Twain's husband, Fred Thiébaud and currently involves schools in Dwight, Ontario, Timmins, Ontario,  Brampton, Ontario, Las Vegas, Nevada, Calgary, Alberta, Surrey B.C. and Regina, Saskatchewan. 75 percent of all proceeds go directly to funding the charity.
Air Jordan 1 Mid "What The Multi-Color" For Sale