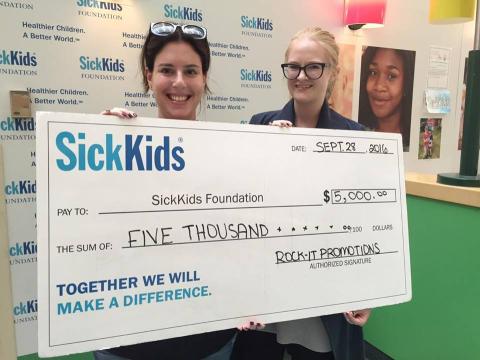 Rock-It Promotions, the PR firm behind the annual Tastemakers gifting lounge during the Toronto International Film Festival (TIFF), made a $5000 donation to SickKids Foundation and donated an autograph board signed by many of the actors who popped in for the freebies that SickKids Hospital will auction off at a later date.
Among the signatures are Tom Ford, Gerard Butler, Liev Schreiber, Amy Adams, David Kallaway, Carrie Lazar, Colm Feore, Vanessa Bayer, Shailene Woodley, Naomi Watts, Jeremy Renner, Douglas Booth and Lupita Nyong'o.
"As a mother and an entrepreneur, I am extremely proud to help raise money and awareness for an organization like SickKids Foundation," Tastemakers co-founder and Rock-it president Debra Goldblatt-Sadowski told Samaritanmag.
"Personally, knowing a facility like SickKids is available to my family and my community is immeasurable. Both my kids have had to go for broken bones and other smaller emergencies, and whenever I am there, I am heartbroken for the families that don't get to leave. There is nothing worse than a sick child."
SickKids Foundation was established in 1972 on behalf of the Hospital for Sick Children.
In the fiscal year that ended March 31, 2016, the Foundation invested $137.3 million in child health research, learning and care, according to its web site.
"On behalf of Tastemakers, all the brands involved, and the talent that signed this year's SickKids autograph board, I'd like to thank SickKids for all that they do," said Goldblatt-Sadowski.
Some of the brands in the 2016 Tastemakers Lounge — which ran from Sept. 8 to 13 at InterContinental Toronto Hotel — are also involved with charity.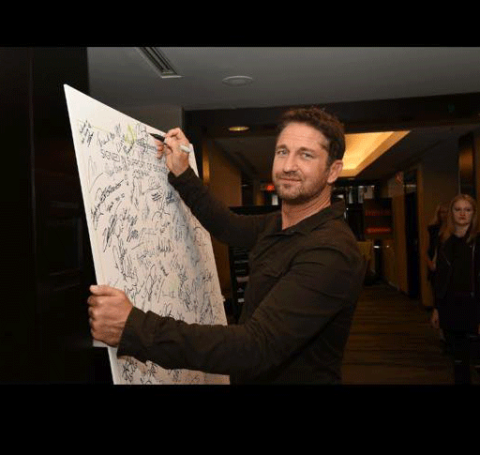 Presenter Krispy Kreme offers donuts at reduced prices for fundraising campaigns by schools, charities and not-for-profit organizations.
McGregor Socks — which had its mustachioed socks in the lounge ($1 from every sale at Hudson Bay and Sears goes to the Movember Foundation for men's health) — has given away 1 million pairs of socks since 1928.
Sorel footwear, which gave away boots from its fall line, is partnered with Girls Inc. to "help provide more that 140,000 girls across the U.S. and Canada with life-changing experiences and solutions to the unique challenges girls face," it says on its web site.
Tweezerman which offered brow and make-up touch-ups, says on its social responsibility page that "Giving back to the society we live in and helping people in need is an integral part of our role and responsibilities in running a growing and profitable business. Our Second Bottom Line, in which we dedicate a share of our profits to charitable causes, is and has always been an important core value of Tweezerman."
The lounge also had blow-dry touch ups, curling and quick styles from Salon Dew; and myofascial release treatments from Dr. Liza of [the fix] chiropractic + massage; and the gift bags included greeting cards from Love Like Red, treats from Indulge Gourmet Kettle Corn, and nail polish from CND (Creative Nail Design, Inc.).
Air Jordan Release Dates Calendar