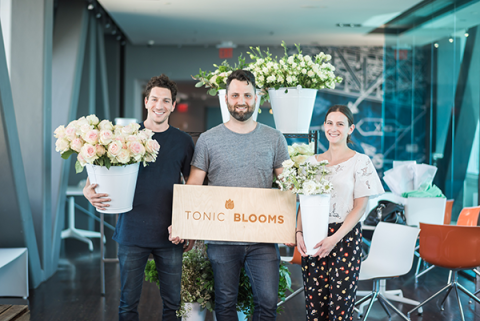 For the month of October, recognized globally as Breast Cancer Awareness Month, Toronto flower delivery service is donating 25 percent of sales from The Blush bouquet to ReThink Breast Cancer. The 15 stems of dusty blush roses sell for $59, delivery included in the city core.
The company, started by Michael Smaye, Raphi Aronowicz and Corrie Pollock Aronowicz, offers a few charitable products a year.
"It's an unfortunate reality that almost everyone knows someone affected by breast cancer and I'm sadly no different. That's why it's so important for us to run this campaign each year and bring awareness to the cause," Corrie tells Samaritanmag.
"We decided to donate proceeds to ReThink this year as we were drawn to its mission to support not just those diagnosed with breast cancer, but also young women who are concerned about the disease. Empowerment and awareness are so crucial to ending the stigma and fighting the disease and we love how ReThink is helping foster this new generation of young breast cancer supporters."
Rethink Breast Cancer's mission is "to empower young people worldwide who are concerned about and affected by breast cancer. Rethink brings bold, relevant awareness to foster a new generation of young and influential breast cancer supporters and, most importantly, respond to the unique needs of young women living with breast cancer."
Tonic Blooms also used the word "rethink" in its raison d'être.
"By rethinking the flower delivery business model and launching Tonic Blooms, we are devoting all our energy to ensure that those who send and those who receive Tonic Blooms are delighted from start to finish," it states on their "about" page. "We start with selecting blooms of the highest quality and freshness, so that your Tonic Blooms last as long as they should. Then, we curate and offer a selection of seasonal designs that are sure to impress and delight."
In addition to breast cancer awareness, Tonic Blooms supports other local charities including The Centre for Addiction and Mental Health (CAMH); Nellie's Shelter, a shelter and support service for women and children; Mount Sinai Hospital; and LGBTQ advocacy agency The 519 for Pride Month.
"We also have an upcoming campaign next month for the International Day for the Elimination of Violence against Women on November 23, where we'll be supporting Elizabeth Fry Toronto, an organization that provides transitional residence and community support for women who have been in conflict with the law," says Corrie.
"We won't ahave a specific bouquet, as it's just one day, rather than a whole month, however we will be donating 25 percent of all sales that day."
(Please support Samaritanmag's original journalism by making a PayPal contribution using the email info@samaritanmag.com so we can increase the amount of content and writers we hire. Samaritanmag is the anti-tabloid, covering good people trying to change bad things. Let's make this thing bigger than TMZ.)
Boots