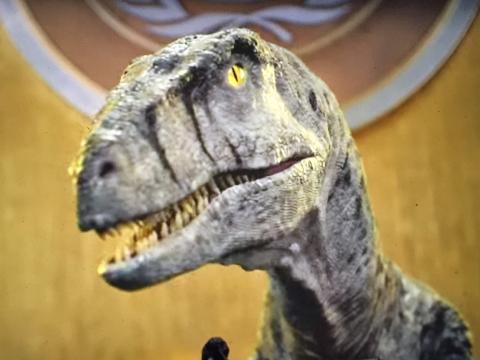 Greta Thunberg became the youngest environmental activist to make a global impression in recent years with her strident speeches in front of world leaders, and now the United Nations Development Programme (UNDP) is promoting the oldest climate change fighter: Frankie The Dinosaur.
The organization has released a two-and-a-half-minute computer-generated image video of Frankie crashing through the doors of a United Nations General Assembly meeting and taking the podium to deliver an impassioned plea to shocked delegates: "Don't choose extinction."
The UNDP's Don't Choose Extinction campaign's website says governments currently spend about $420 billion per year supporting fossil fuels, which are contributing to climate change and the more frequent and intense fires, floods, storms, hurricanes, droughts and heat waves that result from it.
It goes on to say that seven million people are killed each year by air pollution.
That's where Frankie (voiced in English by American actor Jack Black) comes in:
"Listen up, people. I know a thing or two about extinction. And let me tell you, and you'd kind of think this would be obvious, going extinct is a bad thing. And driving yourselves extinct? In 70 million years, that's the most ridiculous thing I've ever heard. At least we had an asteroid. What's your excuse?
"You're headed for a climate disaster, and yet every year governments spend hundreds of billions of public funds on fossil fuel subsidies. Imagine if we had spent hundreds of billions per year subsidizing giant meteors. That's what you're doing right now.
"Think of all the other things you could do with that money. Around the world people are living in poverty. Don't you think helping them would make more sense than, I don't know, paying for the demise of your entire species?
"Let me be real for a second. You've got a huge opportunity right now as you rebuild your economies and bounce back from this pandemic. This is humanity's big chance.
"So here's my wild idea: Don't choose extinction. Save your species before it's too late. It's time for you humans to stop making excuses and start making changes. Thank you."
Mexican actress and singer Eiza Gonzalez voices the Spanish version of the video, Danish actor and producer Nikolaj Coster-Waldau does it in his native language, and Senegal-born actress, director, writer, producer and activist Aissa Maiga is the French Frankie.
As the UN's lead agency on international development, UNDP works in 170 countries and territories to eradicate poverty and reduce inequality. It helps countries to develop policies, leadership skills, partnering abilities and institutional capabilities to build resilience to achieve sustainable development goals. Its work is concentrated in three areas: sustainable development; democratic governance and peace-building; and climate and disaster resilience.
The 26th annual UN Climate Change Conference of the Parties is being held in Glasgow, Scotland until Nov. 12. Its goal is to bring parties together to accelerate action towards the goals of the Paris Agreement and the UN Framework Convention on Climate Change.