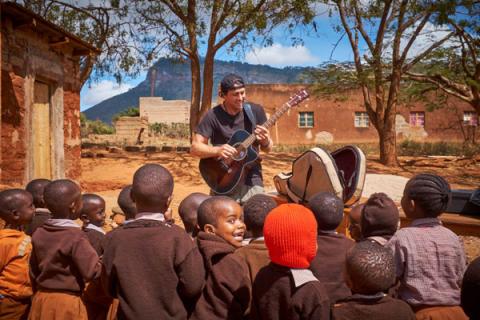 Canadian hard rock band Three Days Grace are using World Humanitarian Day Aug. 19 to release a video documenting their recent trip to Kenya and to support World Vision.
World Vision is a "relief, development and advocacy organization working to create lasting change in the lives of children, families and communities to overcome poverty and injustice." Two of its key initiatives are child protection and to provide clean drinking water to communities in need. In Kenya an estimated 37 per cent of its 50 million population live in extreme poverty, making less than $2 per day. Three Days Grace's Kenya Project aims to raise funds for World Vision to support their work in the country. On the band's 2018 Canadian fall tour, $1 from every ticket sale went towards this project.
In the new video Three Days Grace's Neil Sanderson (drums), Matt Walst (guitar, vocals) and members of the band's team travelled to Mwatate and Taveta, two struggling communities in the southeast of Nairobi, Kenya. While there they visited a temporary child care facility for abused children and a local primary school.
"One of the schools we visited was Riata Primary, a school were hundreds of extra vulnerable children aged four to 12 would have to walk huge distances, hours, daily just to get an education," said Sanderson in the video. "That unfortunately puts their safety at risk from wildlife and even being victims of physical and sexual abuse."
The band also went on a "water walk," a near daily trek many Kenyans must do to secure water for their families. The average distance Kenyans need to travel to access clean water is six kilometres and it's estimated nearly 1,000 children under five die every day due to conditions caused by contaminated water, poor sanitation and improper hygiene.
"It's not easy but millions of people they have to do this every single day," said Sanderson of the water walk. "It wasn't until recently that World Vision was able to give out water purification packets that can produce safer drinking water. This is one example of a solution that drastically decreased illnesses and mortality in this community and all over the world. We were lucky enough to be born in a country where 99 per cent of the population has access to clean drinking water. We never had to think about it. It was just there."
The band was also able to both play and take in local musical performances throughout their visit, including a song created by group of 12 year old girls about how their bicycles help keep them safe and improve their lives.
"It is obvious that music is just so woven into their cultural fabric and we were reminded everywhere we went that music is and always will be the international language," said Sanderson.
Started in 2009, World Humanitarian Day pays tribute to aid workers who risk their lives in humanitarian service, and to rally support for people affected by crises around the world. The United Nations site dedicated to the day says it hoped to "educate the public on issues of concern, to mobilize political will and resources to address global problems, and to celebrate and reinforce achievements of humanity."
Three Days Grace have certainly been mobilized.
"This trip changed us, enlightened us, and completely inspired us," said Sanderson. "Inspired us to help people who aren't looking for a handout but could use a hand up."
Watch Three Days Grace's Kenya Project video
Nike Air Max 200