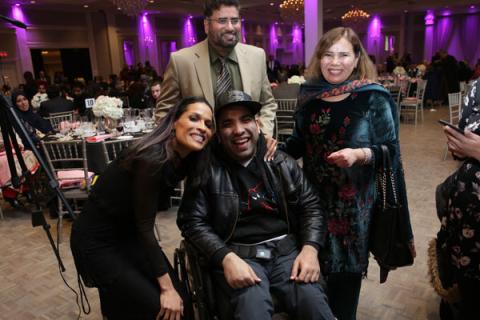 The third annual World Parkinson's Program gala is putting caregivers and those in poverty who've been affected by Parkinson's Disease in the spotlight at the organization's third annual fundraising gala, taking place May 3 in Markham, Ontario.
The gala is a fundraiser for WPP's global and local initiatives, priced at $100 per ticket, and will see John Baumann, a U.S. attorney and motivational speaker, who was diagnosed with Parkinson's in 2012, return as a keynote speaker.
Baumann is joined by veteran Vancouver-based broadcaster Larry Gifford of radio station CKNW, who was diagnosed with Parkinson's in 2017 and now hosts the inspirational podcast When Life Gives You Parkinson's? as well comedian Jeremy McClellan, and former CTV news anchor Lloyd Robertson, who has lost two close friends to the disease.
Their efforts to fundraise on May 3 at the 2019 gala for the WPP will aid the charity in its mission to fund essential medications and support devices like canes and wheelchairs to those with the disease.
"Our mission is to improve lives of all those afflicted with Parkinson's Disease (PD) and poverty," said Armand Gilks, WPP chair, in a statement. "Our priority is to ensure that every Parkinson's patient is able to access the best medical treatment, education and support regardless of their location"
Parkinson's disease is a chronic, degenerative neurological disorder that affects the central nervous system. The symptoms of the disease, which increase in severity as time passes, include shaking, rigidity, slowness of movement, and difficulty with walking. An estimated one in 100 people over age 60 have Parkinson's.
The non-profit was launched in 2008 by Canadian neurologist and Parkinson's expert Dr. A.Q. Rana. While high-profile Parkinson's charities like the Michael J. Fox Foundation, drive hard at finding a cure for the disease by aggressively funding medical research, WPP, which has local chapters around the world, focuses on the need for a better quality of living and reducing health care costs for those with the disease.
"What differentiates us from other Parkinson's charities is that the WPP match their efforts towards researching causes and a cure with providing life-altering medication, treatment, and supportive devices," the non-profit says on its website about improving lives.
For Parkinson's disease sufferers also facing poverty, buying medications and acquiring canes, walkers or wheelchairs to help mobility and avoid falls can be pricey, and even impossible, purchases. Many Parkinson's patients in other parts of the world may also not be able to afford smaller scale aides, like electric tooth brushes when using manual tooth brushes becomes too difficult.
WPP also funds Parkinson's clinics where neurologists, geriatricians, internists and other doctors provide medical treatment to patients unable to afford reaching out to professionals who may provide life-saving care.
The 2018 fundraiser, attended by around 500 people, raised $50,000 and also featured as a keynote speaker Rashida Ali, daughter of the late Muhammad Ali, the boxing world champion who had Parkinson's.
Current goals for WPP include launching "education clubs" in major cities worldwide, as well as retirement homes and nursing community centers in foreign countries, including Africa and Asia, and getting long term care homes to launch their own Parkinson's education clubs.
"We aim to reach every individual across the world who has been affected with Parkinson's disease to educate them in their own language, provide supportive services as well as to advocate for them at the local and global level," says the WPP in its mission literature.
Watch Dr. Rana's statement for World Parkinson's Day 2019
Nike air max