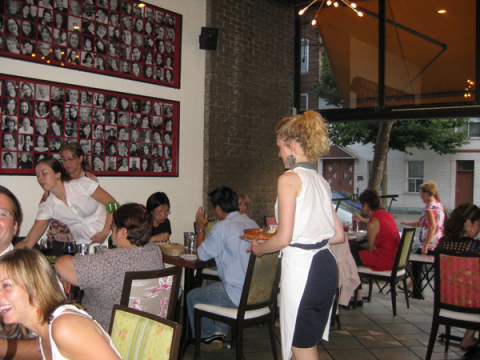 If she'd known how tough running a restaurant was, Judy Servay never would have launched one, especially a not-for-profit designed to serve the community with every plate of food. But as the feisty first-time restaurateur behind Montreal's acclaimed Robin de Bois admits with a laugh, "sometimes naivety is a plus," especially when you're blazing a trail.
Monies earned by Servay's bistro-style boite (salads, chicken, pasta) are donated to local charities assisting local youth and women in need —community centre Jeunesse au Soleil; emergency women's shelter, Le Chaînon; youth-run volunteer organization; and a shelter for young men, Le Refuge.
Meals and use of the space are offered up for fundraisers. What's more, roughly half the staff is volunteers; immigrants seeking local letters of reference, the disenfranchised re-entering society, corporate groups engaged in team-building. All tips and other gratuities are equally distributed as part of le Robin des Bois's profits.
It was while on vacation in Africa in 2004 with daughter Simone that Servay's altruistic vision crystallized. "I had just turned 40 and sold my music video production company (Soma) because I was bored and there was just nowhere else to go with it.
"But I remembered that every Christmas we would have big parties where we would have these cook-offs making meals for the homeless. We used to laugh that it was the only party where you felt better the next day.
"Everyone looked so happy," howls the onetime youth shelter volunteer, "and I thought 'Wow, this is it.' So the challenge was: can I build a space where people can give their time and feel a part of something? The African experience reinforced the importance of community, which is something we really lack in our society."
By 2006, after a year of planning, Robin de Bois opened. And while there's been some hard lessons — volunteers in the kitchen lead to uneven meals and food donations can be haphazard so some profits must be directed towards operations — Servay, 48, wouldn't swap her frenzied life as "a general manager, sometimes waitress and gopher" for anything.
"Not to sound mushy but there is a sense that we are here for a goal beyond our own little personal interests. We're accomplishing something unique. Plus the food is really good." 
Zapatillas de baloncesto Nik