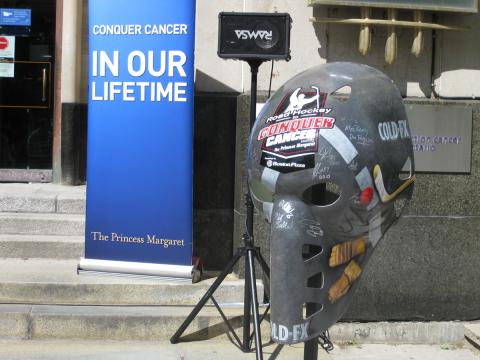 As hockey fans await the Stanley Cup's possible arrival north of the border in 2011, Canadians across the country have another reason to cheer. The two largest national cancer charities announced on June 3 that they would be teaming up to expand the popular Road Hockey to Conquer Cancer fundraiser to towns and communities across Canada over the next two years.
The Princess Margaret Hospital Foundation (PMHF) and the Canadian Cancer Society (CCS) are planning to extend what is already the largest road hockey fundraiser in the world beyond the Toronto event, which has raised millions of dollars for cancer research since its inception last year, to key markets in 2012.
PMHF president and CEO Paul Alofs said that the idea for the two organizations to collaborate started when he sat down to have a beer with his good friend, Peter Goodhand, the president and CEO for the CCS.
"We talked about the fact that on these big events, we should really be collaborating," Alofs told Samaritanmag. "Princess Margaret is such a force in Toronto and [the CCS] right across Canada. We hope that Road Hockey to Conquer Cancer will be a little bit like the Terry Fox [Run]. It'll be in small communities right across the country."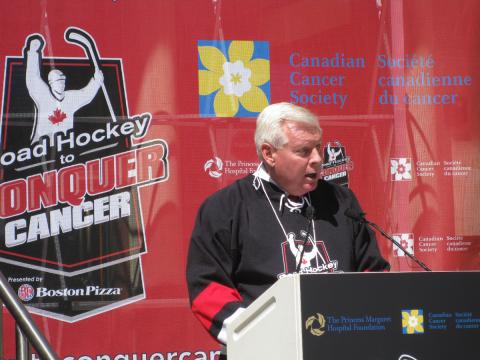 By expanding this charity event, the CCS's provincial organizations can help assist specific research centres in other regions of Canada. Specific dates and locations of the 2012 events have not yet been announced.
"[Fighting cancer is] perhaps the most important fight we have in front of us as individuals, as families," Goodhand said in a press conference held Friday at Princess Margaret Hospital in Toronto.
"We connect that commitment, that passion for hockey across Canada with people's determination to fundraise and put their efforts into the fight against cancer."
The net proceeds from the road hockey marathon in Toronto currently head toward the innovative research for personalized cancer medicine by the Campbell Family Cancer Research Institute, one of the world's top research centres and located at the Princess Margaret Hospital. This research seeks to provide treatable drugs and medicines to cancer patients.
The charity event will have its next dawn-to-dusk, Toronto-based fundraiser at Ontario Place on October 1, 2011, but all Canadians can contribute by donating online. More than 250 teams of eight to 10 players have already registered to participate for this year's event, Alofs told Samaritanmag. "We've never seen this kind of early participation and success in any of our events. It's telling; it's wonderful."
This year, the CCS projects that more than 175,000 Canadians will be diagnosed with cancer, and approximately 75,000 will die of the disease.
Air Jordan 1