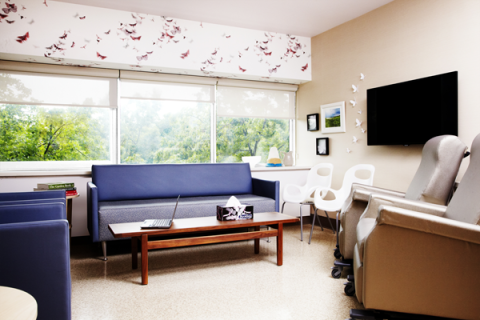 Anyone battling cancer can use all the comfort they can get.
So it's no overstatement to say that a newly redecorated inpatient lounge in the oncology unit of Toronto's Sunnybrook Health Sciences Centre — which now boasts ergonomic recliners, a big screen TV and calming decor coordinated by the editor of a home-style magazine — is a bona fide sanctuary. 
That the redesigned lounge was underwritten by the makers of Scotties brand tissue and Style At Home magazine made it that much more of a win for the sadly busy Sunnybrook, where one in 10 patients diagnosed with breast cancer in Ontario — the most frequently diagnosed cancer in Canadian women — will receive treatment.
"This room really has made a difference. Our patients are facing a lot of life challenges and this lounge presents a relaxing place for them to go," confirms Eleanor Miller, patient care manager for Sunnybrook's 36-bed C2 oncology unit.
The redesign, which was conceived in late 2011 and is viewable in before-and-after format at
Facebook.com/ScottiesTissue, was completed this past summer.
"Patients use the room for many different reasons," Miller tells Samaritanmag. "Some use it for family meetings, as a place for quiet contemplation and reflection; we've even had a wedding there. And on Wednesdays we have a tea get-together there, which the patients really enjoy."
For Scotties, the patient lounge was a natural extension of its ongoing commitment to breast cancer causes while dovetailing with parent company Kruger Product's larger, multi-pronged pledge of corporate social responsibility.
"The Scotties brand has been a champion of breast cancer causes since 2005 and we have an annual limited-edition tribute box to raise awareness for the Canadian Breast Cancer Foundation and all the great work they do," Oliver Bukvic, facial tissue category director at Kruger, tells Samaritanmag.
"So we were looking at ways of extending our support and this came about through a brainstorming session with our ad agency [john st.]. We thought making over a patient lounge would be a great opportunity to create further awareness. At the end of 2011, we met with Sunnybrook and they were keen as well, so it happened quite fast. The Style at Home connection came pretty early on and TC Media, which publishes Style at Home, were great partners."
Interior designer and Style at Home editor-in-chief Erin McLaughlin was tasked with overseeing the lounge revamp, which features recliners custom-upholstered with fabrics certain not to irritate allergies, award-winning Canadian photography, a soothing pastel palette and a butterfly theme.
And while Bukvic declines to offer the exact amount Kruger contributed to this initiative, he confirms that "Kruger is one of the Canadian Breast Cancer Foundation's top five national partners," while adding that "it really was a joint effort with TC Media."
Bukvic also allows that the above-mentioned 2012 limited-edition boxes of tissues — which featured three different designs based on stories submitted by consumers through Facebook — netted a donation of about $1,700 to the Canadian Breast Cancer Foundation. (Canadians were asked to vote for their favourite of the three, also through Facebook, with Scotties donating $1 for each of the 1,700 votes cast.)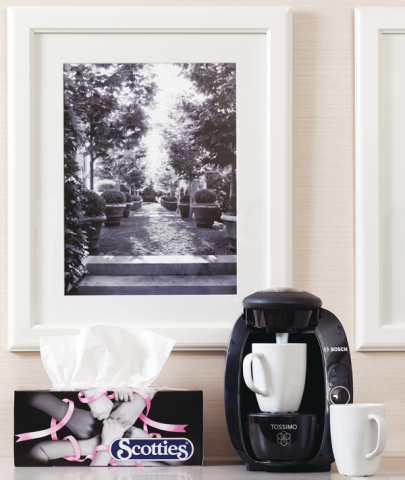 "Kruger is very engaged," Bukvic says. "We encourage employees to engage in community building activities and to do charity work. From a corporate perspective, we are committed to causes that are important to our consumers: cancer research, conservation and environmental initiatives.
"Scotties, Cashmere, Purex and SpongeTowels are long-standing supporters of the Canadian Breast Cancer Foundation. Through our EnviroCare family of products we are the official partner of Earth Day Canada. And our White Swan family of products is a supporter of Nature Canada.
"Plus Kruger is involved with children's charities Friends of We Care sending Easter Seals kids to camp and Ronald McDonald House through our Away from Home division, so we support a number of important initiatives. On a personal level, I take a lot of satisfaction from making even a little bit of a difference through these types of initiatives."
"The oncology lounge used to be very depressing and the furniture wasn't the greatest," patient care manager Miller adds. "People using the lounge are facing tough issues. So this initiative gave us the opportunity to create a better, more beautiful space for them.
"The change in the room is like night and day. And the response I get from patients is amazing. It really is like an oasis."
Air Jordan 11 Retro black varsity red white -.Nike Air Jordan 11 (XI) Retro Black / Varsity Red - White, Price: $71.99 - Air Jordan Shoes