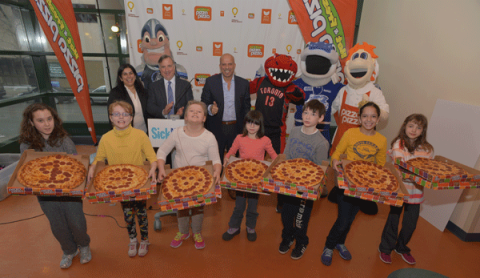 The concept of devoting an entire month to the celebration of pizza is fairly awesome. That one major participant in the North America-wide program leverages October's National Pizza Month for fundraising purposes is more awesome still, not least because it creates good reason to eat more of those succulent, cheesy slices. 
For the month of October, Canadian chain Pizza Pizza is donating a portion of the proceeds from every take-out medium pepperoni or cheese pizza to Children's Miracle Network, which raises funds and awareness for 170 member hospitals (14 in Canada) for critical treatments and healthcare services, pediatric medical equipment and research.
Pizza Pizza customers can also add a donation to their orders in store, by phone, online, and through the Pizza Pizza smartphone app.
The popular pizza chain, with 409 traditional locations and 240 non-traditional, launched the Slices for Smiles Foundation in October, 2007, as part of the company's 40th anniversary celebration. "The program was created to assist charities that provide the fundamental building blocks of life, education, healthcare, nutrition and social support to children and families to help enhance their potential to achieve a better quality of life," it says on its web site. In 2013, the chain raised $300,000 through the Slices for Smiles campaign, bringing the tally to date to $1.3 million.
 "Giving a donation to Slices for Smiles is a very small way to make a big difference in the life of a child," Pat Finelli, Pizza Pizza's chief marketing officer is quoted as saying in a press release about the campaign, which is active in Ontario, Quebec, Manitoba, Saskatchewan and Nova Scotia.
Finelli continues: "With the help of our customers, passionate franchisees and their employees, we hope to deliver many more smiles as a result of this year´s campaign."
The Slices for Smiles campaign is just one of several programs the franchisee-run pizza chain — which boasts some 500 locations nationwide — incorporates as part of its broader corporate social responsibility.
Pizza Pizza is also on-board for Bullying Awareness and Prevention Week Nov. 16 to 22, which was designated by the Ontario Ministry of Education to promote safe schools and a positive learning environment through a broad discourse on bullying and its various forms.
The company has partnered with relationship and parenting expert Dr. Karyn Gordon, who will visit five schools in Ontario to share her interactive talk "Friendships Unplugged" that will touch on various topics, including the differences between teasing and bullying.
On the green front, the company hosts its Slices for Devices campaign each April in honour of Earth Month. Walk-in customers can swap broken or unwanted electronic devices such as mobile phones, digital cameras, tablets, iPods and MP3 players for free pizza slices.
Pizza Pizza then ensures the discarded devices are safely recycled by GreenTec, with proceeds from the refurbishment also donated to Children's Miracle Network.
According to its website, the company also pledges to "work with suppliers, franchise partners and community groups to develop practices that eliminate waste, encourage recycling and protect the environment."
So really, there is no excuse for NOT gorging on pizza, especially during April and October. 
Sneakers