A Canadian-made Carparelli guitar painted by famed British artist Damien Hirst sold for $146,730 (U.S.) at Christie's showroom in London, England, on February 17. All proceeds went to War Child U.K., an international organization which supports children affected by conflict.
Click Here To View The Original Story
Christie's estimated that the auction would fetch between £30,000 - £50,000) ($48,480 - $80,800 U.S.), but the price realized was far exceeded at £91,250, including the buyer's premium. The buyer's name was not disclosed.
"The proceeds donated are a proud reminder that great things can happen when the right people are involved," said an announcement about the sale on Carparelli Guitars web site. "Thousands of needy, starving and underprivliged (sic) children will directly benefit from this great achievement."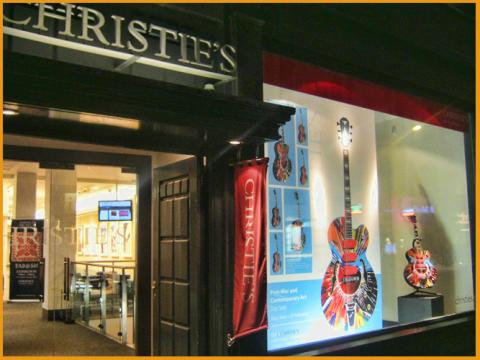 Hirst used his celebrated "spin painting" technique' on the  Scarborough Nine Guitar, which is created on a spinning circular surface. The work was then donated by the artist to Christie's to benefit War Child.
Auctioned as part of the "post-war & contemporary art day" auction, the lot description describes it as "Damien Hirst (b. 1965) Beautiful Charity Spin Guitar signed 'Damien Hirst' (on the side edge) household gloss on wooden semi-acoustic Carparelli guitar 41 1/2 x 17 1/8 x 5in. (105.5 x 43.5 x 12.8cm.) Executed in 2010."
A special notice says: "Artist's Resale Right ("droit de Suite"). If the Artist's Resale Right Regulations 2006 apply to this lot, the buyer also agrees to pay us an amount equal to the resale royalty provided for in those Regulations, and we undertake to the buyer to pay such amount to the artist's collection agent."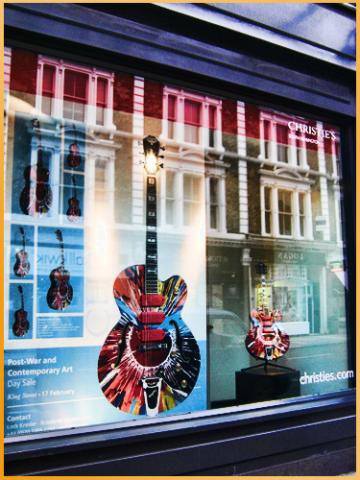 Hirst is Britain's richest living artist, according to a report in the 2010 Sunday Times Rich List, with an estimated wealth of 215 British pounds. In September 2008, he sold a complete show, Beautiful Inside My Head Forever, at Sotheby's auction, fetching £111 million ($198 million).
The Scarborough Nine guitar is the second donation that Hirst has made to the charity. In 1995, he contributed to a series of small spin paintings as part of a limited edition box curated by music producer Brian Eno. The boxes were sold at the Pagan Funwear fashion event.
War Child, which has offices in London, Toronto and Amsterdam, works to help children whose lives have been torn apart by conflict, in Afghanistan, Darfur (Sudan), Uganda, Sierra Leone, Democratic Republic of Congo, Ethiopia, Sri Lanka and Haiti.
Air Jordan 1 Low Pine Green/Black-White For Sale