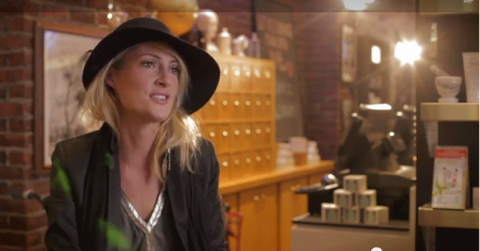 There's still time to step up and help Metric singer Emily Haines raise money for Canadian charity MusiCounts through her partnership with Kiehl's. For every product sold online at kiehls.ca, the cosmetics company will donate $1 to the cause. The campaign ends Nov. 3 and includes free shipping.
Kiehl's — which opened its first retail store in New York City in 1851 —  will also donate an additional $10,000, according to its newsletter.
Haines made a short video (see below) inside a Kiehl's location to promote MusiCounts, a music education charity, whose mission is to ensure that children have access to a music program through their school. She also gave props to Kiehl's.
"I moved to New York, as many kids do, in my youth to go have a career in music, go make it happen," the 39-year-old dual American-Canadian citizen says of her time living in Williamsburg, Brooklyn, which she describes as "bleak" back then.
"There's Kiehl's on 3rd Ave. I would always go in and look in and go, 'Someday I'm going to be able to have things that would be beautiful for my skin that are going to smell good. In the meantime, I'm going to come in and enjoy these little samples,'" she laughs.
Of the importance of music in schools, Haines says, "I don't think music education is about making people into rock stars. I don't think that should be the emphasis. I don't think there's any correlation even. I think the role is purely as an educational tool and helping kids get through school and get their self esteem in place, get their identity in place, and develop the skills that come along in music and the discipline of music.
"As a kid in school," she adds, "I just really found that in the times that I was struggling with who I was and how to navigate music was the thing that helped me find my way."
STORY CONTINUES AFTER THE VIDEO:
MusiCounts — created by the Canadian Academy of Recording Arts & Sciences which puts on the annual Juno Awards — has the support of many in the Canadian music industry from artists to record labels.
MusiCounts' mission is to ensure that children in Canada, regardless of socio-economic circumstances or cultural background, have access to a music program through their school. MusiCounts includes Band Aid musical instrument grants, the MusiCounts Teacher of the Year Award, Scholarships, and other music education initiatives.
"I think we need to have more organizations like MusiCounts that acknowledge that these instruments cost money," continues Haines in the video. "These people are working really hard to do the best for your kids and let's make that a little bit easier…I have a lot of respect for teachers and they need the tools."
On the Kiehl's web site, it poses the question "How has music changed your life?" and asks you to share your story in 125 characters and then share it through your social networks.
There's also a "#keihlsgives MusiCounts playlist," featuring streamed audio of such songs as Black Atlass "Paris," Born Ruffians "Needle, "The Darcy's "Hunting," and The Acorn's "Kindling To Cremation."
Zapatillas de baloncesto Nik