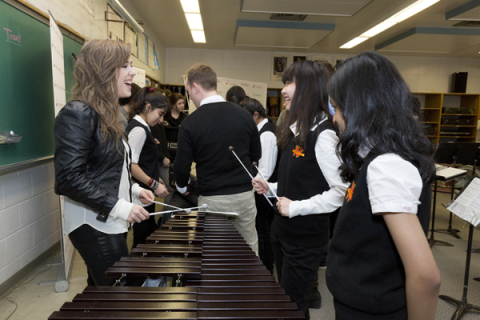 Canadian non-profit and registered charitable organizations with pre-existing music programs and those that want to introduce a music program to complement their current programming are eligible for a brand new grant conceived by TD Bank Group and MusiCounts.  Applications are due May 15.
MusiCounts TD Community Music Grants will provide musical instruments and equipment to Canadian community centres, after-school programs and other non-profit organizations serving local communities. 
The grants will be distributed in allotments ranging from $10,000 to $25,000. In total, $200,000 in grants will be awarded.  Recipients names will be announced in June, 2013. Click here for eligiblility criteria and application form.
"TD is committed to creating opportunities for young people, and we are thrilled with the launch of the MusiCounts TD Community Music Grants," Alan Convery, TD Bank Group's national manager, community relations said in a press statement. "As the bank of music, 2013 marks the 10th anniversary of TD's commitment to bring more music to communities across Canada and we hope these grants may also inspire the next generation of artists to grace our stages."
The Canadian Academy of Recording Arts & Sciences (CARAS), which presents the annual Juno Awards honoring Canadian music, established the music education program now known as MusiCounts back in 1997, and to date, has awarded $6 million to various initiatives, impacting 286 post-secondary music program graduates and an estimated 520,000 students. Its mission is to ensure that children in Canada, regardless of socio-economic circumstances or cultural background, have access to music programs through their schools.
MusiCounts includes Band Aid musical instrument grants, the MusiCounts Teacher of the Year Award, scholarships and other music education initiatives.
"We are thrilled to partner with TD on this new initiative that allows MusiCounts to reach even more young people through our music education programs," Melanie Berry, president and CEO, CARAS/The JUNO Awards and MusiCounts, said in a statement. "Music is the universal language that transcends all boundaries, having the ability to bring diverse communities closer together. Music can and does change lives." 
Recipients of the TD Bank Group and MusiCounts will be selected based on economic need of the non-profit/charitable organization; number of youth impacted by the music program; dedication of pre-existing staff and facilities to house or manage the music program and overall impact the grant will make within the local community.
NIKE AIR HUARACHE