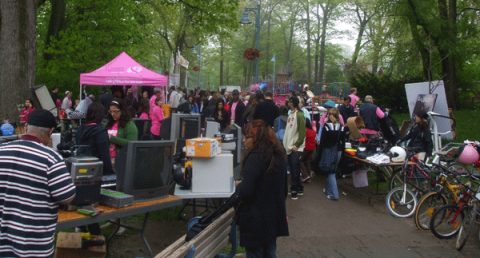 Simple ideas sometimes net the best results. Just look at Yard Sale for the Cure, the annual event which raises money for the Canadian Breast Cancer Foundation through coordinated but independently staged yard sales across Canada. This year, it's on Saturday May 25 (go here to "find" or "host" a sale) with 190 registered sales taking place, the majority in Ontario and then 23 scattered throughout New Brunswick, Nova Scotia, PEI, Manitoba, Saskatchewan, Alberta and British Columbia.
Many of these sales are by multiple hosts combined into one on neighbourhood blocks or lawns and the ones at Toronto's Trinity Bellwoods and Kew Gardens parks are massive.
Launched pretty much accidentally in 2005 by Toronto resident Rachael Smith, Yard Sale for the Cure began as a plan for a one-off, garden-variety yard sale to clear out everyday household clutter and maybe raise some cash for charity.
Smith, who had successfully undergone treatment for breast cancer, knew where she wanted to direct any funds she raised; having two daughters then aged six and eight meant there was no lack of unwanted stuff to haul out front.
"But then my husband, Andrew Howard, who is an enthusiastic guy, suggested we get our whole street involved," Smith tells Samaritanmag. "We live on a dead-end street in the Beach, so that way, people could just walk up and down and visit a number of yard sales.
"Before I knew it, he had blown it up to involve the whole neighbourhood. So that's what we did. And in the first year we had 350 yard sales in the Beach and we raised, if memory serves, something like $30,000 for donation. So we knew we were onto something."
When folks in neighbourhoods across Canada plant bright pink Yard Sale for the Cure signs on their front lawns this Saturday, all monies collected and donated to the Canadian Breast Cancer Foundation (CBCF) will add to an amazing $1.5 million raised to date.
"The yard sales are a lot of work," Smith notes, "but conceptually it's so simple. If someone knocks on your door asking for $500 for charity, you're going to say no. But if you can get rid of a bunch of stuff and make $500, it's easy to donate because it was raised by stuff that wasn't important to you anyways."
As Smith explains, the maddeningly broad reach of breast cancer quickly made the Yard Sale for the Cure concept resonant nationally. The event went coast-to-coast in 2008 after fanning out citywide in 2006 and provincially in 2007.
And while Yard Sale organizers initially suggested that proceeds benefit either the CBCF or oncology units in local hospitals at the sellers' discretion, Smith says, "The majority of donations were being directed to the CBCF anyway.
"So in 2010, after five years, we sat down with them and decided that all proceeds should be directed to the CBCF and we handed over our event to them." The CBCF now bills Yard Sale for the Cure as one of their "signature" or especially high-profile/highly profitable annual events.
"The CBCF does a good job of getting the word out in various markets and they have some great sponsors with 1-800-GOT-JUNK and Re/Max," Smith explains. "But there is a lot of word of mouth. Those signs are very distinctive and people notice great big pink signs in the lawn."
Smith, who continues to host yard sales each year, laughingly admits that by now her house is completely de-cluttered and she must rely on others to donate stuff that she can sell. That's especially true since daughters Grace and Emma, now 17 and 15, hang on tight to their stuff. "But they both love the yard sale and are involved and on-site that day.
"I hear amazing stories every year at my yard sale," says Smith, now cancer-free for nine years. "I remember one lady telling me how important the sales were to her mom who had hosted sales the first couple of years before succumbing to breast cancer and now she was doing the sales. That's very touching and I get stories like that at least once or twice during the day.
"One time I had a little girl come up with a huge bag full of nickels and dimes and quarters that she had saved up for the whole year to give to me."
At the moment, Smith says there are no plans to expand the breadth or frequency of Yard Sale for the Cure. And she doesn't have a specific 2013 fundraising target in mind. "Obviously we hope the sales go on forever and continue making money for the cause," she says. "More people involved means more money.
"For me, as long as it keeps going, I will always be very proud and happy that my husband and I and a small group of friends started a venture that's raised this kind of money." As for beating cancer, Smith adds, "I am thankful for every day."
Nike - Shoes & Sportswear Clothing