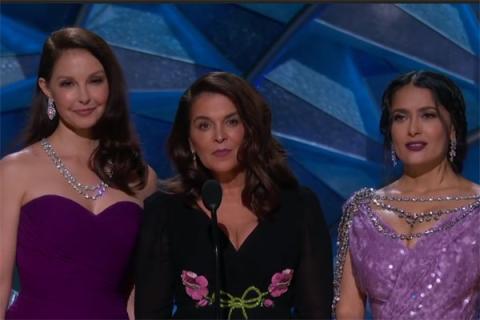 Ashley Judd, Annabella Sciorra and Salma Hayek Pinault, three prominent figures in the #MeToo anti-sexual harassment movement that called out high-powered Hollywood executives like Harvey Weinstein, made a pointed appearance at the 90th Academy Awards broadcast last night held at the Dolby Theater in Hollywood, California.

Judd, Sciorra and Hayek Pinault are among the more than 80 actresses and entertainment personnel who've accused Weinstein of sexual harassment, assault or rape in the last year. The trio used their segment dedicated to this past year's "trailblazer" filmmakers to further reinforce the movement they've contributed to.

"This year, many spoke their truth. The journey ahead is long, but slowly, a new path has emerged," said Sciorra to start their speech.
"The changes we are witnessing are being driven by the powerful sound of new voices, of different voices, of our voices. Joining together in a mighty chorus that is finally saying time's up," continued Judd.

Then Hayek added, "We salute those unstoppable spirits who kicked ass and broke through the biased perceptions against their gender, race and ethnicity to tell their stories."

The new voices/trailblazers segment showcased a number of female, non-white and gay filmmakers in its tribute reel. This included, among others, Mira Sorvino, who had been blacklisted by Weinstein for resisting his advances, Mudbound director Dee Rees, Lady Bird director Great Gerwig, and The Big Sick's Kumail Nanjiani, who also used a separate appearance presenting the best production design award with Lupita Nyong'o to support DACA "dreamers."
Judd, who had insinuated that she had been sexually harassed by an unnamed Hollywood executive (Weinstein, during the filming of 1997's Kissing the Girls) as early as 2015, had a forward-looking final statement.

"We look forward to make sure that the next 90 years empower these limitless possibilities of equality, diversity, inclusion, intersectionality... That's what this year has promised us," she said.

This was far from the only social justice moment of the 90th Academy Awards. On top of Nanjiani and Nyong'o dreamer speech, host Jimmy Kimmel also touched on a number of important issues in his opening monologue.

Watch Ashley Judd, Annabella Sciorra and Salma Hayek Pinault speak at the 90th Academy Awards:
NIKE HOMME