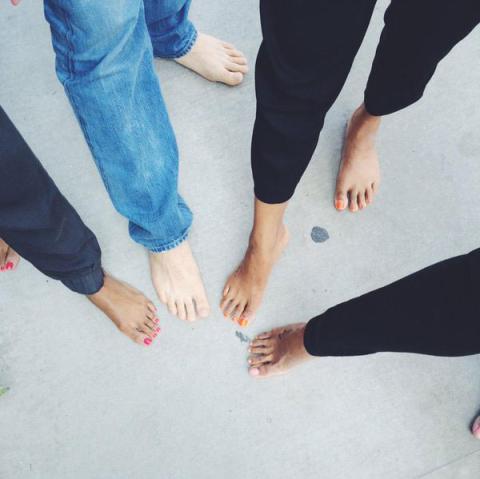 Taking a photo of your bare feet will help 100,000 underprivileged children from around the world receive a free pair of shoes courtesy of TOMS Shoes as part of the One Day Without Shoes campaign on May 10.
The One Day Without Shoes campaign is simple:
1) Take a photo of your bare feet.
2) Post the photo to Instagram with the hashtag #withoutshoes.
3) TOMS will then donate a pair of shoes to a needy child.
"Each year, we spend one day #withoutshoes to raise awareness for children's health and education," said a message on the TOMS website. "Our dream is that some day, all kids will have shoes. With your support today, we'll be one step closer to improving the lives of 100,000 kids in 10 countries. Thank you!"
The likes of actors Zoe Saldana and Charlize Theron and rock band Walk Off The Earth participated in the One Day Without Shoes campaign in 2015.
The 10 countries where One Day Without Shoes shoes will be distributed are India, Ethiopia, Peru, Kenya, China, Jordan, Haiti, Colombia, United States and Greece. In each country there's a different reason for helping cover children's feet. In Jordan the shoes go toward clothing Syrian refugees, in Ethiopia it's to help protect against sand fleas, and in the United States it's to help encourage healthy living and exercise.
One Day Without Shoes is far from the only initiative from the California-based shoe company. The company's whole business model is built on the premise that for every pair of shoes they sell they'll donate a second pair to a needy child from somewhere around the world.
When these children receive shoes it not only helps protect their feet but provides benefits like improved attendance in schools, better socialization and protection from specific ground-born diseases and threats. In addition to TOMS' shoe program, the company also operates TOMS eyewear, which gives eye examinations to the needy. The company also supports the safe water distribution as a trade-off from its TOMS Roasting Co. Coffee band, as well as TOMS Bags, which support safe birthing sites, and TOMS StandUp Backpacks, which help support anti-bullying campaigns.
Zoe Saldana's #withoutshoes contribution from 2015:
Nike Air Max 200