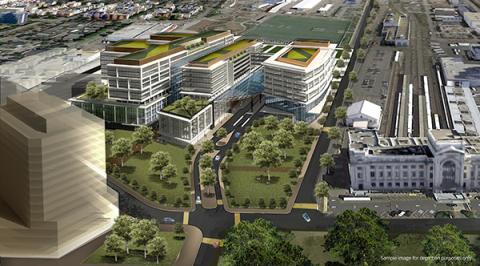 Of all the achievements destined to follow Jim Pattison into the annals of history, perhaps none will rival this: the mega-successful businessman and entrepreneur today holds the record for the largest donation made by a private citizen to a single medical facility in Canadian history.
The B.C.-based Pattison has donated $75 million to St. Paul's Foundation for the creation of the new St. Paul's at the Jim Pattison Medical Centre, described as "a world-class medical and research centre in the heart of Vancouver" and one dedicated to serving some of that city's most vulnerable citizens.
Indeed, St Paul's Hospital — operating since 1894 and currently treating 174,000 patients through 500,000 visits per year — specializes in the care of those with heart and lung disease, renal disease, HIV/AIDS, mental health and substance use issues, and people living in Vancouver's notorious and drug-ravaged Downtown Eastside.
But St. Paul's reach goes well beyond city limits. According to a Foundation fact sheet, more than half of outpatient visits come from outside the City of Vancouver. And St. Paul's is a leading teaching hospital, training roughly 25 per cent of the province's health-care workers.
As such, it's hard to overstate the impact of a $75 million donation.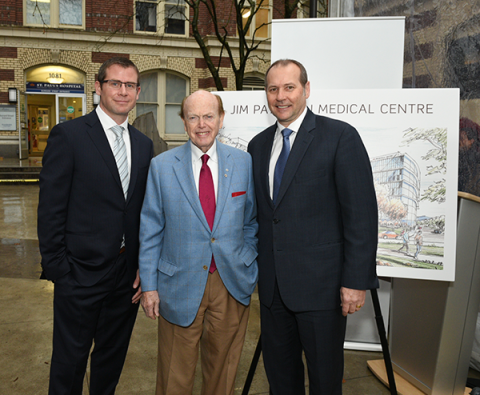 In a prepared statement, St. Paul's Foundation President and CEO Dick Vollet says, "Jim Pattison's gift will help us realize an exceptionally rare opportunity to build a major medical and research centre from the ground up that will establish its place among the most highly regarded and recognized medical centres in North America."
The Jim Pattison Medical Centre will include St. Paul's Hospital with its associated acute- and-critical-care programs; the provincial Heart Centre, Centre for Heart Lung Innovation, the B.C. Centre for Excellence in HIV/AIDS and other centres of excellence in health care and research; primary care and specialized outpatient clinics; the PHC Research Institute; research facilities; and life sciences industry partners.
Some stats from St Paul's 2015/2016 fiscal year give further perspective to its place in the community: there were over 84,000 emergency room visits; some 1,600 babies were born; and 147 kidney transplants, 869 open heart surgeries and 21 heart transplants were performed.
According to a press release, "The new Centre will lead the delivery of B.C.'s new model of health care by providing patients with the highest quality integrated, compassionate, patient-centred care. In planning the new Jim Pattison Medical Centre, St. Paul's has the unique opportunity to begin a project of this magnitude from a blank canvas.
"This allows the freedom to design and develop a medical centre that is built from St. Paul's philosophy of patients first. This will translate into a health campus that is specifically designed for unique and diverse patient populations to provide an improved patient care experience for all."
All of which seems fitting for a man who similarly — and legendarily — built his empire from the ground up. The 88-year-old billionaire business magnate and college drop-out holds the position of chief executive officer, chairman and sole owner of the Jim Pattison Group, the second largest privately held company in Canada with industries including (but not limited to) media, automotive, packaging, food sales and distribution and financial industries.
Pattison is Canada's fourth richest person (behind media baron David Thomson, retail maven Galen Weston Sr. and New Brunswick oil kingpins the Irvings, for those keeping score) but his legacy will be most keenly felt among those occupying a very different orbit.
As Dr. Jeff Pike, physician and Director of Clinical Planning for Providence Health Care's Redevelopment Project is quoted as saying, "A gift of this magnitude will have an impact today, and for generations to come. Our patients' care experience will be greatly improved, and they'll be supported from hospital to community to home - receiving the right care, at the right time, at the right place."
Nike