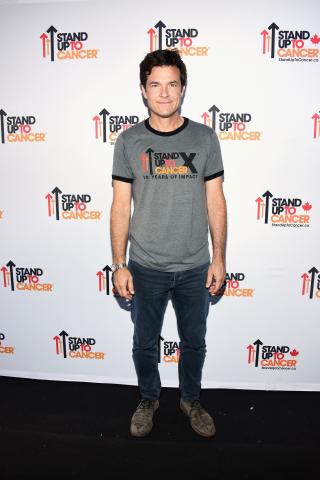 For its 10th anniversary telecast, fundraising for StandUpToCancer has hit new heights. The star-studded telethon last Friday (Sept. 7), which was broadcast all across on U.S. and Canadian television stations, and streamed on social network platforms, received $123.6 million (USD) in pledged donations.
A Star Is Born actor/director Bradley Cooper, who lost his father to lung cancer, served as the event's co-executive producer, and was joined over the hour-long, commercial-free special by such TV and film stars as Mahershala Ali, Jason Bateman, Beth Behrs, Josh Brolin, Katie Couric, Kaley Cuoco, Matt Damon, Shannen Doherty, Julia Louis-Dreyfus, Jennifer Garner, Jon Hamm, Mark Harmon, Marg Helgenberger, Sarah Hyland, Matthew McConaughey, Eric McCormack, Tracy Morgan, John Oliver, Keanu Reeves, Tracee Ellis Ross, David Spade, Bree Turner, and Sofia Vergara.
Stevie Wonder also performed a tribute to the late Aretha Franklin, who died last month of pancreatic cancer.  Other acts were country band Little Big Town, and cancer survivor Charlie Wilson with a capella quartet 4th Ave., The Barker Hangar.
"We are so grateful to the incredible array of people who contributed their time and talent to make the show a huge success," said SU2C CFA Member and telecast executive producer Lisa Paulsen said in a statement. "Over these past 10 years, more than 800 celebrities have helped us convey what a hopeful moment this is in cancer research, and we are so thankful for their support."
Donations can be made online at StandUpToCancer.org and at 1-888-90-STAND (78263) in U.S. or in Canada 1-855-90-STAND.
All monies raised contribute to the funding of StandUpToCancer's collaborative translational research, which accelerates the delivery of new therapies to cancer patients, a result of bringing together scientist from different disciplines and institution to pool resources and work together.
For the first time in an hour-long pre-show, the #It's #Up2Us – StandUpToCancer/The Digital Live Show was streamed on Facebook, Twitter, YouTube and numerous iHeartMedia social platforms. The show was hosted by actors Max Greenfield, Tyler Posey and Brenda Song and included such actors, personalities and influencers as Yael Cohen Braun, Katie Couric, Hannah Hart, Candice Patton and Ken Jeong.
Corporate sponsors also kicked in: when viewers used their MasterCard to donate during the telecast, the company matched funds dollar and dollar to a cap of $1 million (USD).  American Airlines is also donating 20 American Airlines AAdvantage Miles per dollar for $25 donated online their StandUpToCancer.org/AmericanAirlines URL between September 3 and 30.
The Canadian Cancer Society (CCS) and the Canadian Institutes of Health Research (CIHR) are actively collaborating with SU2C Canada. CCS is also a collaborator in the inaugural Stand Up To Cancer Canada–Canadian Cancer Society Breast Cancer Dream Team, along with the Ontario Institute for Cancer Research (OICR).  Collaborators in the inaugural Stand Up To Cancer Canada Cancer Stem Cell Dream Team include CIHR, Cancer Stem Cell Consortium, Genome Canada and OICR. AstraZeneca Canada and Mastercard are the first corporate supporters of SU2C Canada.
Since its inception 10 years ago, StandUpToCancer has raised $603 million (USD)  towards research, brought together more than 1500 scientists and completed more than 180 clinical trials involving over 1200 patients.
(Please support Samaritanmag's original journalism by making a PayPal contribution using the email info@samaritanmag.com so we can increase the amount of content and writers we hire. Samaritanmag is the anti-tabloid, covering good people trying to change bad things. Let's make this thing bigger than TMZ.)
Air Jordan 1 Mid "What The Multi-Color" For Sale