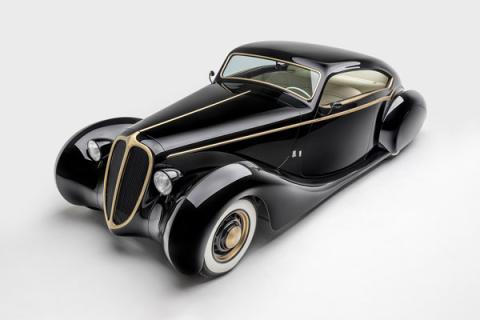 Metallica lead singer James Hetfield has donated 10 classic cars to the Petersen Automotive Museum in Los Angeles, CA. Included in Hetfield's donations are a 1948 Jaguar "Black Pearl" and a 1937 Lincoln Zephyr "Voodoo Priest" automobile.
The museum, whose mission is to "explore and present the history of the automobile and its impact on global life and culture," houses vehicles ranging from a 1910 Ford Model T to modern hypercars and an exhibit featuring sci-fi vehicles used in films like Blade Runner and Back To The Future.
The museum intends to pursuit a couple notable ventures in the next year.
The first will be the expansion of free educational programming that will include field trip opportunities, free school admission and bus programs as well as on-site and outreach educational experiences courtesy of the Armand Hammer Foundation.
The museum will also be sponsoring a car build for Drag Racing Against Gangs & Graffiti (DRAGG). A youth after-school automotive program, DRAGG teams up local police officers and automotive mentors with at-risk youths to learn automotive repair and work on creative custom car projects. Police in the city of Oxnard, CA currently have two  customized Ford Mustangs that are sent to automotive events ranging from drifting races to car shows.
"As we head into 2020, the Petersen Automotive Museum has monumental plans on the horizon," said Petersen executive director Terry L. Karges, in a statement. "Since the Petersen was founded in 1994, we have worked tirelessly to share our passion for the automobile both locally and internationally. Our announcements at Pebble Beach reflect our promise to the public to continue this mission for years to come."
Hetfield's extensive car and bike collection is estimated to contain more than 300 vehicles. The musician has occasionally lent the band's name to support artistic car-related ventures, including a 2013 venture Motorbreath Alley Gallery where the band asked people to submit custom car art.
Metallica, which has its own All Within My Hands Foundation, support many varied causes around the world. In recent years the band has supported children's charities in Sweden and music schools in Afghanistan, helped out San Francisco residents impacted by forest fires, and supported local Toronto-area food banks.
Alle Artikel