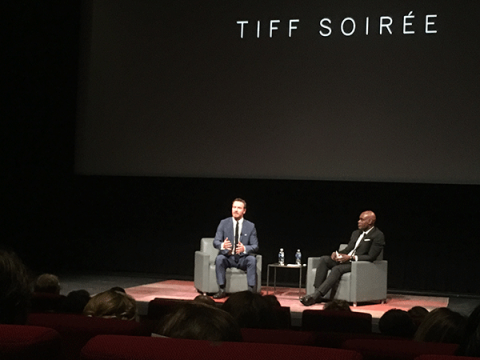 Academy Award and Golden Globe nominated actor Michael Fassbender (Steve Jobs, 12 Years a Slave) addressed a question from Samaritanmag at the TIFF Soirée last night about the little-known charity initiatives the Toronto International Film Festival (TIFF) does.
After an intense, informative and often funny onstage chat with TIFF artistic director Cameron Bailey about his approach to acting and the craft, he was asked his thoughts on TIFF's year-round programs that bring films and filmmakers to young people, as well outreach to five area hospitals for people with mental health issues.
"It's fantastic. I mean, where are we without the next generation? I think it's all about really giving kids the opportunity to engage in creative arts in a way to express themselves, especially kids that don't perhaps the financial means to do it or even as you say if they are handicapped in any way to give them an opportunity to express themselves and just sort of communicate," said the 39-year-old Irish actor, who appears in the TIFF world premiere Trespass Against Us.
"I know for war-torn areas as well with children, dramas are a very effective way in healing scars of war between communities that have been at war.  And so it's a very powerful medium and something that allows teenagers or kids to work on an equal playing field; where they come from or how much money they have or what sort of handicaps they might have kind of get leveled out when you're trying to put sketches together or engaging in films or somebody gives you a camera. The great thing about today is that you have digital cameras now.
"I think [Francis Ford] Coppola said back in the '70s that the dream with this industry is that in the future they'll be a girl in Iowa that can pick up a camera and just shooting her own film. I know with DMC, the production company I set up, what really excites us is the prospect of what's coming next. What are the teenagers into and who are the next young actors, young directors, producers because that's the future of the business and to be in a position of strength, to be able to give a platform for these young adults."
Fassbender, who appeared in the 2013 slavery epic 12 Days a Slave and played Irish activist Bobby Sands in 2008's Hunger, said his main cause at the moment is immigration, "the problem in Europe that we have."
The TIFF Soirée raised close to $300,000 for TIFF numerous outreach programs. Reel Comfort brings free film screenings discussions and workshops to in-patient psychiatric units at five Toronto hospitals and community organizations with a focus on mental health. Pocket Fund works to ensure that no child or youth is turned away from TIFF's educational and cultural programming due to financial circumstance.  And Special Delivery is a program that reaches out to youth in under-served communities and brings film screenings, director discussions, and workshops to community partners across Toronto.
Yeezy Release Dates 2020