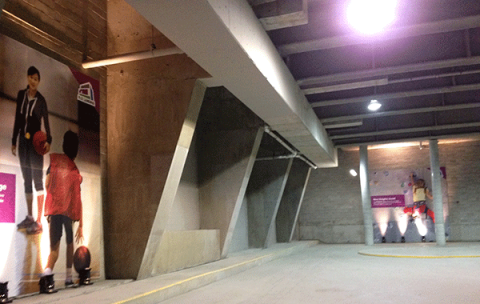 What was once a vacant 42,000 sq.-ft. lot in Toronto's Moss Park neighborhood is the new location for MLSE LaunchPad, a multi-sport facility open seven days a week for disenfranchised youth. It is expected to open in 2017.
The MLSE Foundation's project — described on the site as the first collaborative space in North America to leverage sport, education and research to promote social change — is a $6 million build in partnership with City of Toronto and Toronto Community Housing.
Four million dollars has been raised to date — including $1 million from Maple Leaf Sports & Entertainment — and an additional $2.5 million is needed annually to fund what the MLSE Foundation website describes as "innovative programming."
"Kids in the city of Toronto can have access to free Sport for Development programming unlike any facility in the world," Michael Bartlett, executive director of the MLSE Foundation, said at a media event last week that included a "hard hat tour" of the grounds.
Bartlett later explained to Samaritanmag in a brief onsite interview, "We get to work with the City of Toronto and Toronto Community Housing, and the many great programming partners here in the city, to ensure that kids not only get a chance to play here  — they'll play basketball, ball hockey, soccer, that's what connected them to this facility — but while they're here, they'll engage in ready for work, ready for school, healthy body and healthy mind programming that will set them on the right path."
Part of the MLSE's plans? Two sports courts, a climbing adventure wall, and a kitchen where kids can learn how to cook, all of which are part of the government's overall $55-million Enhanced Ontario Youth Action Plan aimed to help at-risk youth reach their full potential.
On the MLSE Foundation site, it also states even bigger goals involving data collection analysis. "Measuring and evaluating youth outcomes in partnership with academic institutions will be a primary facility objective.
"Onsite researchers will develop unprecedented Sport For Development outcome metrics. By sharing authentic impact stories and best practices, we aim to create social capital that moves the needle on social issues beyond our facility."
The MLSE Foundation is the charitable arm of the MLSE teams:  the Toronto Maple Leafs, Toronto Raptors, Toronto FC and Toronto Marlies and "supports the refurbishment of local athletic facilities and funds charities that support kids through sports and recreational programs."
In addition to the financial contributions from MLSE and the provincial government, other funding is being provided by the Bank of Montreal, PCL Constructors Canada Inc., and individual donors Vijay Kanwar and MLSE chair Aris Kaplanis.
"These types of community centres...teach [young boys and girls] the values of the game, hard work, team work, respect, integrity," said NBA commissioner Adam Silver, who was in Toronto for the NBA All-Star Game Feb. 14. "These young boys and girls will leave the centre with these values instilled in them."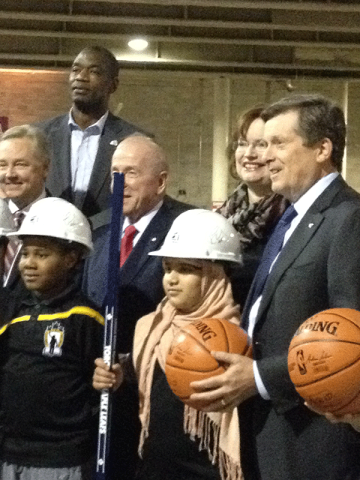 On behalf of the Ontario government, Premier Kathleen Wynne committed to providing $1.6 million over four years, declaring that, in less than two years' time, MLSE LaunchPad's opening will emphasize the "integral role of sport in shaping a young person and setting them up for success."  The sentiment was echoed by other guest speakers, Mayor John Tory; MLSE chairman Larry Tanenbaum; Hon. Tracy MacCharles (Minister of Children and Youth Services); and MLSE president and CEO Michael Friisdahl.
The combined public and private fundraising effort is not only projected to be multi-functional, but multi-beneficial, as well. "Toronto Community Housing is home to about 110,000 people who reside in our community," said Simone Atungo, Toronto Community Housing VP of resident and community services.
"Thirty-eight percent of the people who live in these housing facilities are children and youth, so this is going to be [a] chance for many vulnerable and marginalized youth...to participate in activities such as a climbing wall in an urban setting."
Other amenities that kids will have access to at the LaunchPad are locker rooms; equipment rooms; a nutrition hub; and a life skills zone, where they will learn development skills towards their future goals and aspirations.
Giving youth a chance to participate in team sports and other informal recreations that enhance their lives is LaunchPad's objective, MLSE's Bartlett told Samaritanmag.
"We're connected to the Toronto Maple Leafs, the Toronto Raptors, Toronto FC. The kids are going to come into this space because they've got a great chance to play and actually build their lives as a result of their engagement here."
Funding even extends to new equipment and athletic gears, such as shoes and helmets, as kids grow into teens.
"The MLSE and MLSE Foundation have made a 20-year commitment to ensure that this facility, during its 20-year lease, will be funded and that we'll have the operating funds to ensure that all that programming lives each and every year," Barlett said.
30 Winter Outfit Ideas to Kill It in 2020 - Fashion Inspiration and Discovery