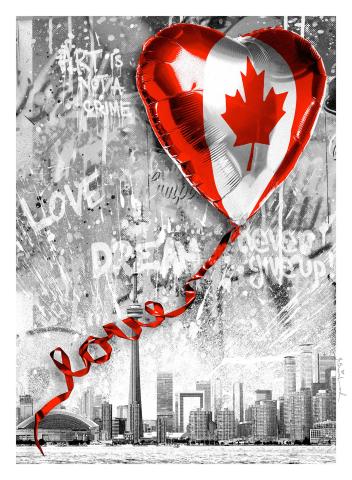 Taglialatella Galleries Toronto is donating 10 percent of the proceeds from sales of a silkscreen by pop artist Mr. Brainwash to local women's shelter Street Haven.
French-born Thierry Guetta, known by his Mr. Brainwash pseudonym, was the subject of renowned street artist Banksy's Academy Award-nominated 2010 documentary, Exit Through The Gift Shop. His style incorporates richly layered screen printing, stencils, spray painting and hand painting.
Mr. Brainwash's 76-centimetre by 56-centimetre fundraising artwork is titled "We Love Canada." It features a heart-shaped Canadian flag attached to a red ribbon that spells "love" in cursive floating over a grey background featuring Toronto's skyline and the words "Art is not a crime," "Love," "Dream" and "Never give up.
"We Love Canada" comes signed, numbered and framed for USD $1800. Eighty-five were available when they went on sale on April 30. Purchases can be made by emailing toronto@djtfa.com.
"We wanted to take a moment to pay our respects to the incredible Canadians working tirelessly for our health and safety right now," Taglialatella Galleries Toronto director Alan Ganey said in a media release.
"Art has the ability to bring joy in the most challenging times. With an artist like Mr. Brainwash, where love and happiness play a central role in each piece, the 'We Love Canada' print is an opportunity to express gratitude, give back and remember this moment of history in years to come."
Street Haven is a 50-bed emergency shelter that's filled to capacity 365 days a year by women who've experienced poverty, violence, addiction, illness, trauma and exploitation. It offers a safe place to sleep, meals, clothing and medical supports, as well as access to counselling to help them rebuild their lives.
Street Haven staff assist women in the shelter secure and maintain adequate housing, while its supportive housing program offers accommodations for 32 women in three different locations in downtown Toronto.
Street Haven Addiction Services provides a three-month intensive treatment program for women experiencing challenges associated with substance dependency. There's also a community program available for women leaving the in-residence program and to other women living in the community who require support, resources, counselling and help with life planning.
The Street Haven Learning Centre provides free, flexible and women-centred educational and pre-employment services.
Toronto's 99 Yorkville Ave. gallery is the newest location for Taglialatella, which opened its first gallery in 1978 and also has spaces in New York City, Palm Beach, Fla. and Paris.
Mr. Brainwash was a key contributor to INK Entertainment's Yorkville Murals festival last summer. He created a 21-metre by two-metre mural, followed by a four-week exhibition called "Toronto is Beautiful" at Taglialatella Galleries that paid homage to the city.
Taglialatella Galleries New York launched an "Art for Relief" campaign in March to share positive imagery and support local charities. It features "We Love Canada" and other works by Mr. Brainwash, as well as pieces from Joe Iurato, Burton Morris, Markus Klinko and Russell Young.
Ten percent of all sales are being donated to the charity of each artist's choice. The campaign has raised nearly USD $20000 so far.
Iurato has also pledged an additional donation from any sale to Boys & Girls Club of America to assist their efforts in providing groceries and other essential goods in Iurato's area of New Jersey and other communities around the United States.
Each Boys & Girls Club caters specifically to the particular children and teenagers of its community. It offers programs that cover sports and recreation, education, the arts, health and wellness, career development, and character and leadership.
3M Nike Air Max 90 CZ2975-001 Release Date