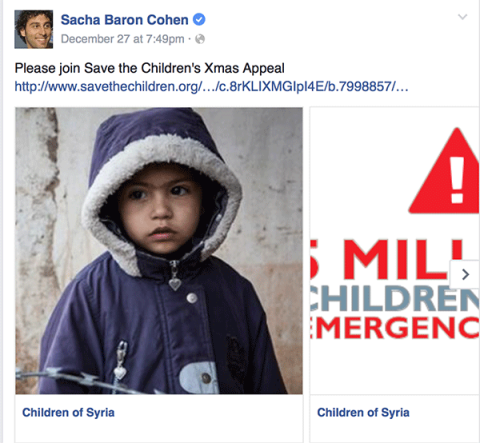 Married actors Sacha Baron Cohen and Isla Fisher have donated $1 million ($1,382,600 CAD) to Save the Children and the International Rescue Committee in order to help Syrian refugees.
Baron Cohen, the comedic actor behind the characters Borat and Ali G, and Fisher, a star in such films as Wedding Crashers and The Great Gatsby, are splitting the donation evenly with $500,000 to each organization. Half the money will be used to vaccinate more than 250,000 children from Northern Syria against measles. The other half is being directed to help refugee families' education, health care, shelter and sanitation needs.
Save The Children, an international organization that focuses on the issues of health and nutrition for children around the world, says there are more than 2 million Syrian refugee children in need of assistance.
"The Syrian conflict is now approaching its fifth year and children are the first victims," said Save the Children CEO Justin Forsyth in a press release. "There is no safe place left in Syria, with shelling and violence omnipresent. Food and medicines have become scarce and basic necessities unaffordable. Syria's health system has collapsed and deadly childhood diseases – like measles - which had previously been all but eradicated have now returned, threatening the lives of hundreds of thousands of children. By allowing us to make their generous donation to Syrian children public, Sacha and Isla are helping highlight the tragedy of the issue today. These are desperate times for Syrian families facing bombs, bullets and torture in Syria. The couple's donation will save many thousands of lives and protect some of the most vulnerable children."
International Rescue Committee is an organization that helps "restore health, safety, education, economic wellbeing, and power to people devastated by conflict and disaster."
"Now is the time for all of us to double down on commitments to civilians caught up in the Syria conflict," added David Miliband, president and CEO of the International Rescue Committee (IRC). "These people are the victims of terror. As hope for the end of conflict recedes, it is all the more important to meet the most basic human needs. Sacha and Isla's donation is a great expression of humanity, and a challenge to do more for the most vulnerable. I hope it is an example to many others seeking practical ways of making a difference during the Christmas and New Year season."
Baron Cohen, who frequently uses his official Facebook page for jokes and satire, has been nothing but serious when it comes to helping these refugees. His most recent post from Dec. 27 is a very simple plea for people to "Please join Save the Children's Xmas Appeal" with a link to Save The Children's Syria-focused donation page.
Asics Onitsuka Tiger