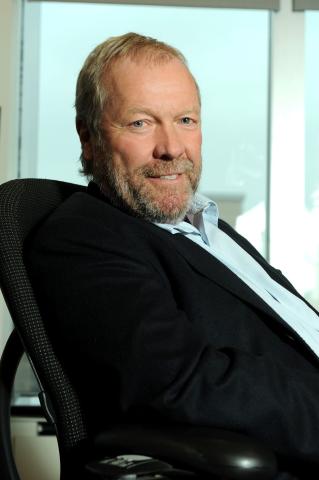 The Slaight Family Foundation, one of Toronto's most wide-reaching and generous philanthropic family foundations, is divvying up $30 million to 19 Canadian organizations offering mental health services to people experiencing all kinds of distress and challenges.
"We know COVID-19 has exacerbated mental health issues across the country, putting huge stress on our hospitals and organizations providing services," said the Foundation's president and CEO Gary Slaight in a statement. "We hope this support will help alleviate some of these stresses, reduce hospital visits, provide additional services for those in need of mental health support and develop new models of care and service for others to emulate."
Among those benefitting from the extraordinary donation are specified mental health programs for vulnerable 2SLGBTQI people, isolated seniors, French-speaking Black youth, kids with disabilities and their families, Indigenous youth, and people with substance use disorders (see the full list of programs below).
The Slaights generosity will provide new or enhanced services at a time when many Canadians are dealing with various mental health issues that can arise from financial loss, illness, death of a loved one, job insecurity, isolation, or compounding problems from pre-existing or previously diagnosed mental health issues.
According to statistics delivered with The Slaight Family Foundation press release, "Suicide is the leading health related cause of death among young people accounting for 25% of deaths. Children and youth in care are almost four times more likely to be diagnosed with a mental health disorder and 17 times more likely to be hospitalized compared to children in the general population.
"2SLGBTQI people are also falling through the gaps in Canada's mental health system due to discrimination and a lack of cultural competency and Kids Help Phone has seen 137% increase since last year with some of the most distressed users experiencing racism,'' it continues. "There are an alarming 46 deaths per week from accidental opioid poisoning and overdose is now one of Canada's leading causes of preventable deaths. Seniors too are facing higher risks of developing mental health issues due to the social isolation resulting from the COVID-19 pandemic."
Kids Help Phone is receiving $1.5 million from the Slaights for the creation of Rise UP, Canada's first national bilingual e-mental health service for Black young people,  in partnership with Black youth and Black-led organizations.  In a statement, Katherine Hay, president and CEO of Kids Help Phone, said, "When COVID-19 created a crisis like no other experienced in Canada, our youth and their mental health was impacted. Black youth have been underserved in general and have been greatly impacted by COVID-19 – and we will not, we cannot, leave them behind. The unwavering commitment of The Slaight Family Foundation will help right tomorrow for Black youth."
Also included in the recipients, SickKids Foundation will get $10 million to establish the Slaight Mental Health Inpatient Unit in the New SickKids re-build and the Centre for Addiction and Mental Health (CAMH) will receive $2.5 million to create a new 25-bed unit for transitional aged youth (16 to 25 years) in its new McCain Complex Care & Recovery Building.
"This year has tested the mental healthcare system to its limits," said CAMH president and CEO Dr. Catherine Zahn in a statement. "COVID-19 has had an impact on mental health that's unique in its breadth and depth. Youth, seniors, disadvantaged individuals and populations, and healthcare workers are all suffering. This newest gift from The Slaight Family Foundation will support us to do our best – for those most in need – right now."
Added SickKids Hospital president and CEO Ronald Cohn in his statement: "In recent years, SickKids has seen increased acuity, severity and risk of suicidality at younger ages," "Thanks to the transformational support of The Slaight Family Foundation we will rise to the challenge of this child and adolescent mental health crisis. This gift will allow us to double the size of our current inpatient mental health unit, ensuring the province's most complex patients receive the highest quality care. This is a wonderfully fitting legacy of the Slaight Family's tremendous history with SickKids, which reaches back decades."
The Slaight Family Foundation was established in 2008 by John Allan Slaight, a broadcast pioneer and prominent philanthropist. Through his generosity, the Foundation supports charitable initiatives in the areas of healthcare, at-risk youth international development, social services and culture.
Since 2013, the Foundation's thorough vetting to identify needs has led to impactful and life-changing initiatives, starting with a gift of $50 million split between five Toronto hospitals to support priority healthcare issues, followed by millions more in donations to address global humanitarianism, healthy development of children and youth across Canada, support for Indigenous issues, a seniors' initiative to help keep seniors in their homes and communities, and, last year's initiative to support more than one million women and girls globally.
Below is a list of the recipients:
Centre for Addiction and Mental Health (CAMH) $2.5M
Transitional Aged Youth Inpatient Unit: A 25-bed unit for transition age youth (16-25 years) in the new McCain Complex Care & Recovery Unit at CAMH will offer intensive and developmentally appropriate mental health care. This will include assessment, treatment and supports that aim to reconnect young people with the social, educational, and employment opportunities that will promote recovery and help them to achieve their full potential.
Children's Aid Foundation of Canada $1M
Mental Health Expansion for Youth in Transition: In partnership with Children's Aid Society of Toronto Connections Program and other partners across Canada, the immediate mental health needs of 800 youth (ages 18-29) transitioning out of government care will be addressed through the expansion of mental health services within and beyond the Greater Toronto Area. Support will include increased therapy, counselling, trauma informed individual therapy and group therapy programs.
Egale Canada Human Rights Trust $1M
Queering Mental Health Supports in Canada: To enable vulnerable 2SLGBTQI people to have access to the inclusive services and care they need to manage mental health, Egale will provide introductory inclusion training to industry professionals, undertake foundational research, develop and deploy custom, evidence-based and context-specific training and resources for service professionals to provide better mental health services for 2SLGBTQI people.
Kids Help Phone $1.5M
Rise UP- 24/7 Mental Health Support Service for Black Youth: Kids Help Phone, in partnership with Black youth and Black-led organizations, will build RISE UP: Canada's first national bilingual e-mental health service for Black young people. RISE UP will enable 24,000 e-mental health conversations in 2021, growing to 60,000 in 2025. This initiative will offer life-saving support, promote mental health, build resilience and provide critical referrals to community-based services dedicated to Black youth throughout Canada.
Holland Bloorview Kids Rehabilitation Hospital Foundation $1M
New Mental Health Supports for Kids with Disabilities and Their Families: To meet the unique needs of kids and youth with disabilities, Holland Bloorview will expand & create new mental health supports including: training for clinical staff in mental health interventions, direct programming in anxiety-reduction & resiliency for kids and caregiver support with mentorship for families. The first of its kind Psychopharmacology Consultation Program in Ontario will be created to support kids with disabilities and complex mental health needs.
Indspire $1M
Increased Access to Mental Health Resources for Indigenous Youth: By developing new partnerships and expanding its Advisory Group model, Indspire will provide increased mental health, addiction, and resiliency resources and supports to Indigenous students through a range of digitized accessible Indigenous-centered resources to help them through difficult times as they pursue their education. Digital resources will expand the reach to more Indigenous youth across the country.
Jack.org $1M
Scaling Youth Mental Health Digital Education: Jack.org will expand their digital programs to effectively engage youth, scale their work, and deliver engaging upstream mental health education to new and underserved communities of young people across Canada by: enhancements to their Virtual Jack Talks, developing new audiences for their Be There resource, creation of a new immersive Be There training and certification program, establishing a Jack.originals digital library, expanding Virtual Jack Summits, providing digital education and support to young leaders in the Jack Chapters program and reaching more youth with mental health education through Do Something.
Pine River Foundation $1M
Pine River Institute (PRI) Center for Family Initiatives: The PRI Centre for Family Initiatives will create a hub for Ontario families and clinicians that provides education, support and training regarding mental health and addictions by expansion of two successful outreach and education programs; the Community Workshops & the Caregiver Waitlist Support Program. A new Family Therapy Training Program will improve therapeutic interventions within the field of youth mental health and addictions through skilled instructors who will teach clinicians in community-based organizations the fundamentals of working with families.
Pediatric Oncology Group of Ontario (POGO) $1M
POGO School and Work Transitions Program Expansion:The POGO School and Work Transitions Program will provide increased school- and work-related counselling to childhood cancer survivors facing challenges as a result of their cancer and treatment. POGO Counsellors work one-on-one with survivors to help them develop plans and implement strategies to improve their academic or employment success, which in turn supports their mental health and emotional well-being. POGO will expand counselling services, including services for francophone survivors and youth still on treatment, and grow their skill- and community-building Survivor-to-Survivor Network.
Scarborough Health Network (SHN)Foundation $1M
The Slaight Family Foundation Cultural Psychiatric Clinic: SHN will develop a Community Mental Health Hub to centralize SHN's outpatient mental health services in one safe, welcoming and TTC accessible location for adults 18 yrs of age and older. As part of this new hub, The Slaight Family Foundation Cultural Psychiatry Clinic will offer psychiatric care in 5 languages thus reducing stress on families, caregivers & increasing access to urgent mental health care in patients' languages & cultures, reducing wait times for 10,000 patients referred to outpatient programs each year.
SickKids Foundation $10M
Slaight Mental Health Inpatient Unit: The Mental Health Inpatient Unit as part of the New SickKids will anchor SickKids Mental Health Care Continuum, which extends from hospital to community and sees more than 63,000 child, youth and family visits per year. The unit will increase the number of inpatient beds from 12 to 22, allowing Sick Kids to provide holistic care to mental health patients with the most severe disorders in Ontario, including those transferred from the ICU following suicide attempts or near organ failure due to severe eating disorders.
The Substance Use Disorders Program: A comprehensive Substance Use Disorders Program at Sinai Health will help patients with addictions access more collaborative, seamless care, free of stigma. The Program will help teams across the institution work together to identify addiction issues early and empathetically, reduce barriers to treatment, and offer patient- centred care. The Program will include a barrier-free Rapid Access Addiction Management (RAAM) Clinic. It will also help teach health care providers to manage addiction, making addictions medicine a normal part of care.
Wellness On Wheels: SPRINT Senior Care will launch a new mobile program, Wellness on Wheels, to bring essential health and wellness programs directly to isolated seniors' doorsteps. They will purchase and retrofit two large vehicles that will provide health and personal care services such as vaccine clinics, primary care supports and foot care as well as recreation programs and food security supports to reduce isolation and provide needed health care right to seniors' homes.
St Joseph's Health Centre Foundation $1M
Repetitive Transcranial Magnetic Stimulation & Staff Wellness Program: The Repetitive Transcranial Magnetic Stimulation (RTMS),among the first clinical programs of its kind in Toronto targets a specific site in the brain with short magnetic pulses to effectively treat those who do not respond well to medication for mental illness, particularly depression. This non-invasive outpatient treatment is painless, requires no anesthesia and takes only 12 minutes per session. St. Joseph's will also invest in wellness support for healthcare workers facing extreme emotional stress during this pandemic.
St Michael's Hospital Foundation $1M
Mental Health Navigators, Community Health-care Staff & Staff Mental Health Wellness Program: To address the mental health and community support needs of their vulnerable patient populations including Indigenous patients, St. Michaels will add a Mental Health Navigator who is a trained peer with lived experience, as well as nurses, an outreach worker and a patient advocate to help the Family Health Team take a more holistic approach in its services. Health and wellness resources & assistance for patients transitioning from hospital to community will be provided. St Michael's will also invest in wellness support for healthcare workers facing extreme emotional stress during this pandemic.
Youth Engagement Strategy - Family Navigation Project (FNP): Sunnybrook Health Sciences Centre will enhance its Family Navigation Project, a GTA-based free phone and email service that connects families who have a youth struggling with mental health and addictions issues with the services they need. With this funding, FNP is launching a Youth Engagement Strategy to ensure as many youth as possible receive the care they need, when and where they need it, and in ways that speak directly to them. Youth with lived experience and youth-focused organizations will play a key role in establishing a permanent Youth Advisory Council and creating, for the first time, a youth-centred navigator position.
University Health Network (UHN) $1M
Integrating Physical & Mental Health Through the Mental Health in Medicine Clinic:A new mental health medicine clinic serving 1,000 patients each year from Toronto General & Western, Princess Margaret & Toronto Rehab hospitals that will support those requiring follow up after receiving mental health care as an inpatient and those needing mental health care to optimize their physical health outcomes as they receive outpatient care for medical and surgical disorders. Through this clinic, University Health Network (UHN) will be able to identify patients experiencing a spectrum of mental health conditions including mood disorders, trauma and substance abuse and provide care that aligns with their physical and mental health needs.
Women's College Hospital Foundation $1M
Trauma Therapy Program & Centre for Wise Practices in Indigenous Health: Women's will accelerate and grow its Trauma Therapy Program to deliver more timely, accessible & quality care by training health practitioners to deliver evidence-based, trauma-focused care, particularly to underserved communities. They will implement and evaluate trauma therapy groups starting at six Ontario sites, reaching approximately 13,000 individuals. The Centre for Wise Practices in Indigenous Health at Women's will expand trauma-informed, collaborative, community-led initiatives that support minds, bodies, spirits and hearts of Indigenous patients, learners, practitioners and communities.
Workman Arts $1M
Expanded Arts Training Program :Workman Arts will expand its Art Training Program that provides people with lived experience of mental illness/addictions access to free multi-week art classes all taught by artists with lived experience. Their program reduces social isolation, increases the quality and quantity of social interactions and improves mental health outcomes for participants. The programming will be expanded to priority neighbourhoods across the GTA by partnering with six Local Art Service Organizations (LASOs) including Scarborough Arts, Urban Arts, North York Arts, East End Arts, Arts Etobicoke and Lakeshore Arts.
(Ed. note: The Slaight Family Foundation is a supporter of Samaritan)