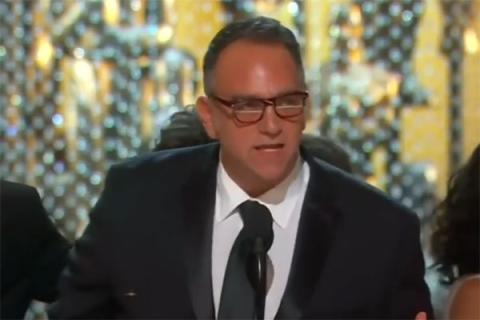 When Morgan Freeman declared the film Spotlight the Best Picture winner of the 88th Academy Awards it indeed shone a light on an incredibly dark scandal.
Based on the real-life reporting done by the Boston Globe's investigative journalism team in the early 2000s, Spotlight is about how they exposed a systematic coverup of Roman Catholic priests sexually abusing children in and around the Boston area. Just before the credits roll in the film, a statistic appears on the screen: "249 priests and brothers were publicly accused of sexual abuse within the Boston Archdiosese and the number of survivors in Boston is estimated to be well over 1,000." The producers then roll a list over 200 other cities all over the world where "major abuse scandals have been uncovered."
The film, which stars Mark Ruffalo, Michael Keaton and Rachel McAdams and was directed by Tom McCarthy, also won the Best Original Screenplay at the Oscars. The film's creators weren't interested congratulations, though. They used their victory speech to reinforce the film's story and mission.
"This film gave a voice to survivors, and this Oscar amplifies that voice, which we hope will become a choir that will resonate all the way to the Vatican," said producer Michael Sugar in his acceptance speech. "Pope Francis, it's time to protect the children and restore the faith."
The producers were also quick to acknowledge the efforts of the Boston Globe team that inspired the movie.
"We would not be here today without the heroic efforts of our reporters," said producer Blye Pagon Faust. "Not only do they affect global change, but they absolutely show us the necessity for investigative journalism."
The film's creators have been mindful of the damage caused by the priests and done things like provided links to how survivors can access help resources and tips on how to take action to be supportive.
Additionally, abuse survivor organizations are using the film as an education and outreach tool.
SNAP (Survivors Network of those Abused by Priests), a self-help group that supports people who have been victimized by clergy, mentioned Spotlight's win prominently on its website and also used the win to provide helpful tips.
The win for Spotlight was far from the only nod towards righting wrongs and social activism that took place last night, though. Host Chris Rock used his opening monologue and other opportunities to skewer systematic racism in Hollywood, Vice President Joe Biden teamed up with Lady Gaga to combat sexual violence on college campuses, Sam Smith advocated for LGTB rights, The Big Short director Adam McKay called for political financial reforms and Leonardo DiCaprio talked about the need to combat climate change in his Best Actor acceptance speech.
Watch the Spotlight end credits:
/Nike_7_1