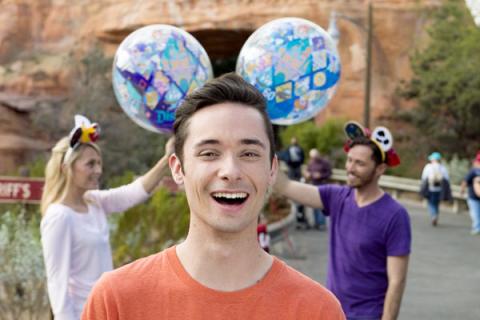 For a long time, fans of the Walt Disney universe would show their loyalty with their ears; more specifically, by wearing hats or headbands of the iconic black ears made popular by the Mickey Mouse and Minnie Mouse characters.
Between now and March 14, though, wearing your mouse ears has a separate and valuable purpose — to earn money for the Make-A-Wish Foundation.
As part of the just-announced global Share Your Ears campaign, every time someone shares a photo of themselves wearing a pair of mouse ears on Facebook, Twitter or Instagram with the hashtag #ShareYourEars Disney Parks will be donating $5 to Make-A-Wish, up to a total of $1 million.
The main goal of Make-A-Wish is to grant the wishes of children with life-threatening medical conditions. Unsurprisingly, wishes involving the Disney universe are a pretty popular request at Make-A-Wish, who estimate they granted nearly 8,000 Disney-related wishes throughout the world last year. The Canadian arm of Make-A-Wish alone granted close to 200 Disney-related wishes.
"For 35 years, Walt Disney Parks and Resorts has been proud to work with Make-A-Wish to make dreams come true for thousands of children, and now we're excited to give Disney fans the opportunity to help us make a difference for even more," said Bob Chapek, chairman of Walt Disney Parks and Resorts, in a press release.
At Make-A-Wish, they appreciate the efforts Disney makes on their behalf.
"The Share Your Ears campaign exemplifies Disney's constant generosity and support in helping us achieve our goal of granting every eligible child's wish," said Jennifer Klotz-Ritter, president & CEO of Make-A-Wish Canada. "We could not be more grateful for the opportunity to share in the excitement and creativity associated with Disney. We are delighted to see Make-A-Wish and Disney fans from all over the world united around #ShareYourEars."
For diehard Disney devotees, there's also another notable point to the #ShareYourEars campaign — some rare and limited edition merchandise. Exclusively for sale on site at the Disneyland Resort in Anaheim, California, limited run of 7,500 60th Anniversary Ear Hats that say "Wishes Really Do Come True" will be made available at $19.95. All profits from the sale of these will also go towards Make-A-Wish.
On top of that, there's also a Disney Parks contest running on Prizeo to win the sparkly "Dazzled" #ShareYourEars Mickey Mouse Ears Hat. The rather bling hat is "adorned with Swarovski crystals and a white gold plated, silver emblem consisting of a large topaz and smaller pave' diamonds." For every $5 a person donates to Make-A-Wish through this contest they get one entry to win the hat. Those who donate $50 or more will receive a #ShareYourEars t-shirt. This contest closes April 4, 2016.
nike lunar janoski black and gold swoosh blue