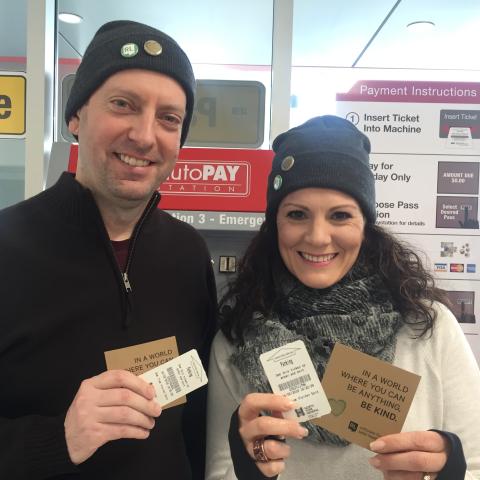 It's not surprising that RL Solutions, a safety software company for hospitals that has a Nelson Mandela quote on its landing page and programs ranging from infection prevention surveillance to patient feedback would send its staff out to hospitals on Random Acts of Kindness Day last month.
A video shows its Toronto employees spreading kindness to visitors at North York General Hospital on Family Day weekend by standing by the pay machine in the parking lot then offering to pay their bill.
"It started out with the idea of doing 'a little something' to help make someone's day – and ended with over 175 connections, conversations about how even the smallest gesture can go a long way," it states on the YouTube page. "We hope everyone finds the opportunities to be kind everyday."
Visitors between 11 a.m. and 3 p.m. on Feb. 17 were approached in the pay parking kiosk and told they'd have their parking covered by RL Solutions. Some of the givers and recipients were filmed for a two-minute video.
"We're just covering your parking here today so you can be with your family, spending time and not having to worry about coming back and paying for your parking every minute," one woman is seen telling a surprised gentleman. "So parking's on us and we hope you have a good day."
"You just saved me a small fortune," another gentleman remarked.
Eighteen members of the RL staff and their families were also on-site handing out "kindness" cards —  which read "in a world where you can be anything be kind," complete with a blue heart — to those lucky visitors and encouraging them to pay it forward. In total, they covered parking for over 175 visitors.
"Toronto is one of the most expensive cities for parking — and hospitals are no exception," says a 2013 statistics from real estate service Colliers international that is included in the video.
For the team of volunteers from RL, the experience was a reminder of all the reasons that bring people to a hospital – from the surgery of a loved one or an unexpected illness to the birth of a baby. The only thing RL volunteers asked for in return? To pay it forward and remember that kindness is everywhere.
"Kindness means to me creating a sense of community with everyone. Everyone should
feel safe and loved. No one should feel alone or isolated," noted one young man.
"Kindness means being nice to everyone," a little girl put it succinctly.
"And doing something out of your way to help someone else," said a woman.
off white nike blazer price list shoes for women