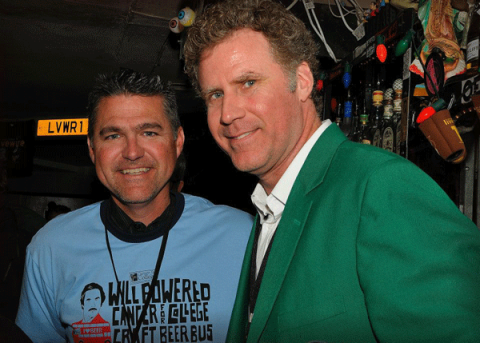 Craig Pollard has a very good friend in comedic actor and Anchorman movie star Will Ferrell.
Were it not for the association between the two former University of Southern California frat brothers, the two-time cancer survivor and founder of Cancer for College (CFC) — a registered charity that provides scholarships to cancer survivors as well as amputees seeking post-secondary education in the United States and Puerto Rico — would "probably be giving out just a few thousand dollars a year," rather than the $2 million CFC has distributed to some 1,000 aspiring students since its inception in 1993.
"Unequivocally, we would be in a different place without Will Ferrell," Pollard tells Samaritanmag from his California office. "We exceeded the $2 million mark in 2013. Ours is a bittersweet success. We are happy to be able to do this, but we would be 100 percent happy to be out of business."
As Pollard explains, Ferrell has been integral to the growth and profile of the charity, which fundraises primarily through events such as its annual Golf Classic which Ferrell hosts (and loads of his Hollywood buddies attend).
There was also Will Ferrell's Epically Awesome Desert Smash Charity Celebrity Tennis Event, a multiple-day blowout that wrapped earlier this month, raising $1 million for CFC thanks to the star power generated by attendees such as actor Kevin Spacey and a concert featuring BoyzIIMen and Nelly.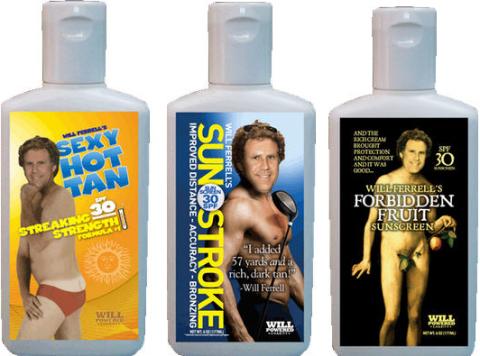 "We are still in a heavy fundraising mode because our goal is to get to the point where we have a fund that can provide scholarships in perpetuity or until cancer is eliminated, which I doubt will ever be the case," Pollard explains.
"Our goal right now is to get ourselves to a $20 million fund so we can be paying out over $1 million a year in scholarships based on just dividends or interest. We've got a long way to go. That said, Will Ferrell is very giving and that's allowed us to do major events like the one that just wrapped in the Palm Desert area.
"If we can continue to do big events like that where we generate seven figures, we'll get to our goal much quicker and help some of these kids out quicker." Ferrell has also lent his handsome mug to suncreen products, with all the proceeds going to the charity.
The story of Cancer for College is very much Pollard's own. The 45-year-old baseball fanatic has twice battled Hodgkin's disease at age 15 and again at 19.  
"Knowing that I would ultimately return to college gave me the strength to keep fighting. It gave me a reason to live," says Pollard, who subsequently lost both his feet just above the ankles to a vicious bacterial infection which savaged his already compromised immune system in 2006. It was then amputees were added to the CFC eligibility list alongside cancer victims.
The Cancer for College concept stems from the sad reality that most families battling their kids' cancer are so strapped financially that there is nothing left over for college.
As the CFC website notes, "During Pollard's senior year at the USC Business School, he wrote a business plan for his senior project on a charity which would provide college scholarships to cancer survivors, with funds raised through a small golf tournament.  He called it Cancer for College.  The plan earned him special honors and notoriety."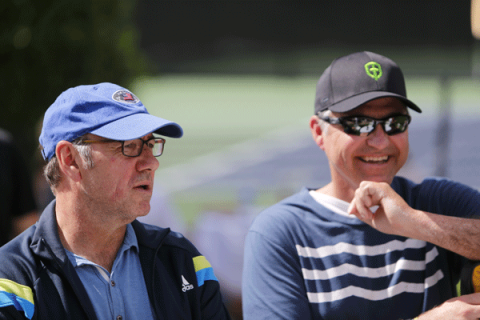 The rest, as they say, is history.
"Our concept — and the story we try to tell everyone — is that you get these amazing kids who have a better perspective on life than your average teenager because of what they have been through," Pollard says. "But they get stuck in a place where their families don't have money because they've been crippled by medical expenses.
"Families have had to move to access treatments. They've had to quit jobs to care for their child. So there is just no way these families can put money away for college. They are scrambling just to get their kids to live.
"Finally they get to this point where their kid is cured and wants to go out and make a difference in the world, but the parents can't afford it. That's where we come in, and in our mind, we are a pay-it-forward kind of charity. These kids aren't going to college to party – they want to start their own charities, become doctors or nurses. They're the ones you want to invest in."
Indeed, the CVs of Cancer for College recipients are hugely impressive, both for the scholastic achievements on offer and for the fact that they were racked up by students who had battled — or were battling — everything from brain cancer to leukemia to ovarian cancer.
"We've had students become nurses at oncology centres where they were treated, and others that have gone onto Yale law school and Harvard medical school," Pollard notes. "They are all just a great group of kids and there are great stories across the board. And two of our past scholarship recipients have become employees of this charity, so it's really come full circle."
Cancer for College offers two kinds of scholarships. "We have what we call Perpetual Scholarships, which are $16,000 spread over four years," Pollard explains. "Those are given to incoming freshman and they're granted nationally.
"We also do one-time scholarships that range anywhere from $500 to $4,000 and those are done based on the revenue we have from the previous year based on events we have in different areas. We will earmark funds to different geographic areas based on events we have in those areas."
Cancer for College's numbers are substantial. For the year 2012, according to information posted on the CFC website, some $821,068 was raised through events, another $296,365 came in through donations and $23,227 was raised through the sale of Will Ferrell's Sunscreen Products of which all profits are directed towards CFC.
Of that $1,140,660 (U.S.) total 2012 income, $756,302 benefited the Scholarship Fund while $384,358 covered expenses including operations.
"Right now we are only able to fund about 10 percent of the applications we get in," Pollard says, adding that most people learn about the charity through social workers in hospitals and oncology centres as well as through social media and, especially, through the high-profile Ferrell who gamely serves as mascot and mouthpiece. 
Ferrell is listed on the CFC website as Celebrity Spokesman on CFC's Advisory Committee. Pollard and wife Stacy, meanwhile, serve as uncompensated volunteers to the charity.
Pollard continues: "Most of our fundraising comes from California, so kids from California benefit from that. But we have an event in Seattle (Taste to Educate) where we raise typically between $50,000 and $100,000 a year and those dollars are earmarked for kids either living in the Pacific Northwest or going to college in the Pacific Northwest."
Pollard says he is unaware of similar initiatives being launched internationally. On the plus side, "We are trying to work with colleges to do some matching programs with us like they do with other scholarships whereby if a kid gets one of our scholarships, the college would match it. And that could happen nationwide," he says.
"I'd like to be able to say there are plenty of other organizations in the States doing what we're doing but I have actually seen the reverse. The American Cancer Society used to do something like this and they've stopped. We are hearing from the kids and their parents that they can't find any other funding besides what we're doing. Our efforts are very much needed."
Air Jordan 1