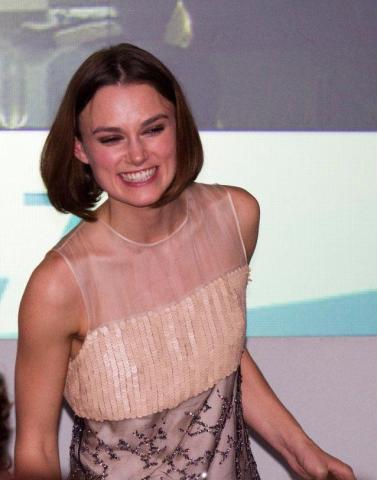 Actress Keira Knightley has supported everything from Amnesty International to Women's Aid but signed on a few years ago to bring attention to spinal muscular atrophy (SMA), a genetic disease that leads to more deaths in babies and toddlers than any other inherited condition. 
"A friend of mine called Thea Sharrock, whose nephew has it, she and her family and other families who have that particular thing, put this charity together and asked if I'd come out for a couple of fundraisers," Knightley told Samaritanmag while promoting the world premiere of her latest movie, Can A Song Save Your Life? during the Toronto International Film Festival.
Sharrock directed Knightley in The Misanthrope, which debuted in December 2009 at Comedy Theatre in London's West End.
Knightley — whose breakout role in Bend It Like Beckham led to such supporting or starring roles in Pride & Prejudice, Pirates of the Caribbean, Atonement and Anna Karenina — agreed in 2010 to be a patron of the Spinal Muscular Atrophy Trust, the only charity in the U.K. solely dedicated to funding research into the disease. The gene that causes the disease was discovered in 1990 and, according to the SMA Trust, "since then effective treatment has become tantalizingly close."
"They need a lot of funding," Knightley told Samaritanmag.
SMA is "a muscle wasting disease that affects thousands of people in the UK," the organization states. "One in every 40 people is a carrier of the defective gene that causes the condition. Up to 50 percent of the most severely diagnosed cases result in death by the age of two. The SMA Trust was set up as a charity in 2003 to fund research into a cure."
The Momentum campaign was launched in 2011 to raise £2 million ($3.27 million CAD). That is when Knighley was brought on board, along with another actor David Morrissey, who was in Sense and Sensibility and plays the Governor in The Walking Dead.
"Actually, I've horrendously been a [patron] of the charity. I've only done one fundraiser with them so far," the actress admitted to Samaritanmag.
"I know there is presently no cure or treatment for SMA," Knightly said in a statement in November 2010 about why she chose to become a patron for the Trust. "Many babies with a certain type of this disease will not live to see their second birthday. Research is the only hope for these families."
Knightley attended SMA Trust's first Momentum Awards Dinner in November 3, 2011, at Chelsea Football Club.
"One year previously a number of children with SMA had announced that they were going to challenge themselves to a tough and physical test or a MAD Challenge," it reads on the web site about the fundraising event. "Some covered miles of inhospitable terrain in their wheelchairs, whilst one brave teenager covered 120 miles in a horse and trap. They then challenged others to follow their example and embark on their own MAD Challenge. People took them at their word and hence our evening of celebration...
"Our patrons Keira Knightley and David Morrissey juggled hectic schedules to be there and we were hugely appreciative of their support."
Air Jordan Release Dates 2020