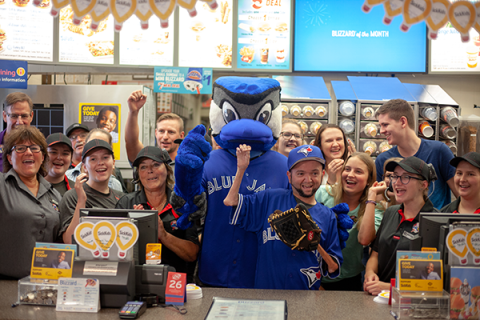 Canadians try not to think about blizzards in the summer, except when it's Dairy Queen's classic soft-serve icecream with mixed-in ingredients like Oreo cookies, M&Ms and brownie bits. Well today (Aug. 9), hopefully the cravings or your philanthropic side will pull you to a franchise to buy one for Miracle Treat Day (Aug. 9).  All proceeds go to Children's Miracle Network member hospitals.
The American Dairy Queen Corporation is hoping to raise at least $2 million, by participating locations, according to the press release.  Over 10 million children yearly are provided for by The Children's Miracle Network, with more than $135 million (CND) alone being donated by Dairy Queen customers and franchisees over the past 16 years.
Funds raised finance critical treatments, healthcare services, pediatric medical equipment and charitable care, which result in the treatment of more than 2.3 million patient visits yearly via Children's Miracle Health network hospitals.
Children's Miracle Network Hospitals include BC Children's Hospital, The Alberta Children's Hospital Foundation, Stollery Children's Hospital Foundation, Jim Pattison's Children Hospital's Foundation, Children's Health Foundation, McMaster Children's Hospital Foundation, Toronto SickKids, CHEO Foundation, IWK Foundation, opération enfant soleil and Janeway Children's Foundation.
To launch this year's Canadian program, DQ selected four past and present patients to get "the treat of a lifetime:" a VIP Toronto Blue Jays experience that includes a behind-the-scenes tour at Rogers Centre and an on-field witnessing of the MLB team's batting practice prior to Wednesday's game against the Boston Red Sox.
Raymond Hardisty, 29, will throw the ceremonial first pitch. Hardisty has been a SickKids patient since he was 4, receiving a bone marrow transplant to battle leukemia. He was also diagnosed with Graft versus Host Disease as a result of the transplant, permanently impacting his joint mobility.
Hardisty, from Stayner, Ontario, eventually became a Dairy Queen ambassador to the Children's Miracle Network, raising more than $30,000 alone for the hospital charity. He was formally recognized as a Dairy Queen Miracle Treat Day Champion Child in 2000.
(Please support Samaritanmag's original journalism by making a PayPal contribution to info@samaritanmag.com so we can increase the amount of content and writers we hire. Samaritanmag is the anti-tabloid, covering good people trying to change bad things)
Air Jordan 1 Mid "What The Multi-Color" For Sale