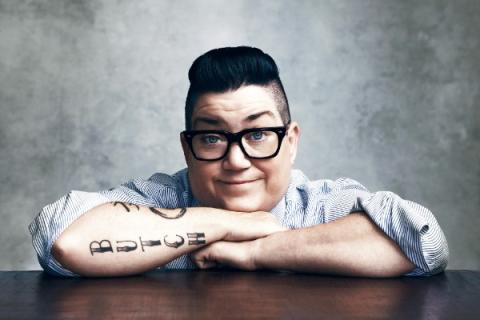 The We're Funny That Way comedy festival and fundraiser will be making its return after a five year hiatus. The LGBTQ-positive festival, which goes from May 3-6 in Toronto, will use its We're Funny That Way Foundation to dedicate proceeds from this year's events to Toby's Place, a new safe space being developed for youth in the southwestern part of Scarborough. The Foundation's goal is to support grass-roots queer organizations across Canada.
"It's exciting and interesting to be back, said festival founder Maggie Cassella, in a press release. "When we stopped the fest we thought, 'Hey, we've arrived' and then, well… the world happened… so here we are again. Plus, people missed us! And as entertainers we know our job is to provide a space for ALL people to forget the madness. What's a better prescription for a dose of 'Faghedaboudit' then a festival of comedy, music, and burlesque?"
Some of the performers scheduled to appear at the festival include Lea DeLaria, best known as "Big Boo" from Orange Is The New Black, presenting a "signature train wreck variety show," This Hour Has 22 Minutes actor Gavin Crawford adapting his "Friend" "Like" #Me production and Nurse Jackie's Stephen Wallem doing a cabaret show called A Burly Night Music.
In the past the Foundation has raised more than $91,000 split between organizations such as the Fraser Valley Youth Society, Okanagan Pride Society, Youth Project Nova Scotia, LGBTQ Youth Hotline, Shape Your Life Programme, Toronto People With AIDS Foundation and The 519.

Full schedule and ticket information can be found here, including info about the Gayla Gala, a "90 minute fast-paced variety show featuring festival talent and loads of Canada's favourite personalities."
Alle Artikel