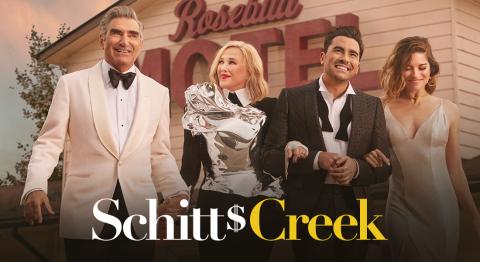 The cast behind the popular Canadian sitcom Schitt's Creek have asked their fans to help tackle food insecurity during the COVID-19 crisis by supporting Food Banks Canada and Feeding America, even though they did not kick it off with a donation. 
The goal of the Schitt's Creek Gives Back GoFundMe campaign is to raise $100,000 and by the evening was almost halfway there thanks for 1200 donors.  Funds raised will go evenly to the Canadian and U.S. networks of food banks.
The CBC comedy Schitt's Creek stars Dan Levy, Eugene Levy, Catherine O'Hara and Annie Murphy as it portrays a wealthy family suddenly find themselves broke and forced to live in a small town called Schitt's Creek.
Asked if any of the cast are contributing and the publicist told Samaritanmag "they're expected to and will circle back then."
Over the next week, at 8 p.m. (ET), a different cast member will go live on their personal Instagram pages to pitch for funds for both charities.
The GoFundMe page states, "The cast of Schitt's Creek wants to help show our neighbors the same kind of generosity and goodwill that our fans have shown us over the last six years. So over the next week, we're hoping to spread some joy while raising as much as possible for two organizations that have long been dedicated to helping those in need: Food Banks Canada and Feeding America."
Food Banks Canada, which has a network of provincial associations, has launched an appeal for $150 million to support food banks across Canada. On its website, the charity says around 4 million Canadians are "food insecure," or lack the means to have sustainable access to affordable and nutritious food.
Now the COVID-19 crisis is set to add to the ranks of the unemployed in Canada struggling to make ends meet.
"Keeping pace with the growing need for the services of food banks strains resources. Strengthening the food banking network's ability to provide more food and specifically fresh food to Canadians in need is an important focus. Food Banks Canada is supporting the food bank network across Canada by investing in vital infrastructure needed to recover and distribute good, safe surplus food to Canadian families in need," Food Banks Canada says of its work on its own website.
For its part, Feeding America similarly attempts to sustain a network of around 200 food banks in the U.S. also challenged by the impact of the COVID-19 pandemic. On March 13, as the coronavirus outbreak began to take hold in the U.S., the organization launched a $2.65 million COVID-19 Response Fund to "enable food banks to secure the resources they need to serve the most vulnerable members of the community during this difficult time." 
Feeding America routinely helps support in all 40 million people at risk of hunger, including 12 million children and 7 million seniors.
"In a country that wastes billions of pounds of food each year, it's almost shocking that anyone in America goes hungry. Yet every day, there are millions of children and adults who do not get the meals they need to thrive. We work to get nourishing food – from farmers, manufacturers, and retailers – to people in need. At the same time, we also seek to help the people we serve build a path to a brighter, food-secure future," Feeding America says on its website.
スニーカーの検索一覧【新着順】