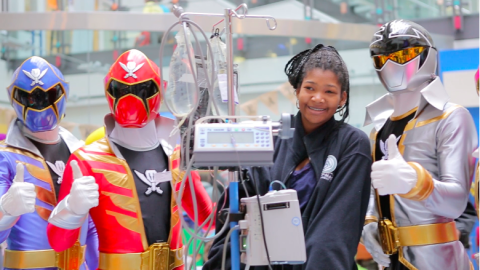 Customers of Spirit Halloween costume retail chain, which has 1400 stories throughout the U.S. and Canada, have donated more than $45 million to help bring the fun of Halloween each October to young patients forced to spend the best holiday in the world in a hospital.
The amount, raised since the Spirit of Children program started in 2007, goes towards "bringing Halloween celebrations to children's hospitals each October and raises money for 140 Child Life departments across the United States and Canada," it says on the web site.
The company itself invests $300,000 annually in the program.
When a patron donates to Spirit of Children, either online or at one of Spirit Halloween's stores, 100 percent goes to their local Child Life program in partner hospitals, which funds art, music, aquatic and pet therapy programs.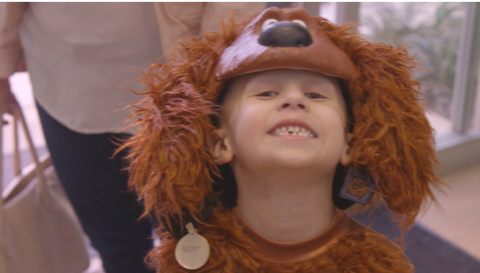 "Child Life departments provide developmental, educational and therapeutic support for children undergoing medical treatment," it says in the company FAQ. "Trained Child Life Specialists work with children and their families to help them cope with the many stresses involved when a child is in the hospital. Spirit of Children helps Child Life staff provide therapeutic and emotional healing while doctors and nurses focus on medical treatment."
Spirit of Children also funds educational items and toys to distract their young patients while they receive treatment, including surgery. And as explained in a promotional video on the Spirit Halloween website, parents and patients find the Child Life program a valued connection to routine life.
"The Child Life department is really important," says Michelle Sybert, a parent from North San Diego County whose son Luke was diagnosed with a form of cancer.  "They provide the kids with a sense of normalcy. For us, it provided a lot of resources in terms of sharing with Luke that he had cancer and giving us tips on how to best approach that."
For Ruby Trioche, a patient who suffers from gastroparesis — and as a result, is unable to eat and process food — the Child Life program offers her a much-needed reprieve.
"They deliver you from a place you don't want to be," says Trioche.  "They provide activities and even such things as conversation, they help you escape from the reality of your illness or your current situation."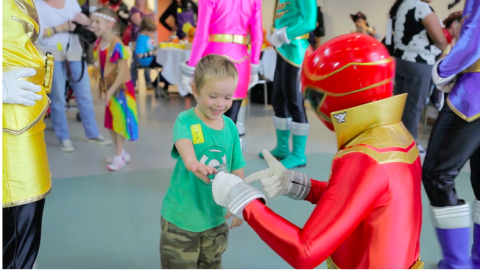 Laura Moa says the Child Life program offers her daughter Lily — who had a kidney tumour removed when she was two years old — a home away from home.
"From personal to emotional needs, all of them are met," Moa explains. "As soon as Lily gets here, she already knows what to look forward to. It's very positive. She knows she has friends here and an opportunity to play despite all the stress we have. She finds herself at home here."
For Sybert, she says the value of the Child Life Experience is incalculable.
"When Luke was in the hospital, he missed out on a lot of important holidays," she notes. "The fact that Spirit of children is there and they do the parties for the kids and they provide a sense of joy and fun and excitement and bring that into the hospital, you can't almost quantify it because makes such an impact on the kids."
Donations from $1 and up are accepted on the Spirit Halloween website.
(Please support Samaritanmag's original journalism by making a PayPal contribution or EMT transfer using  info@samaritanmag.com so we can increase the amount of content and writers we hire. Samaritanmag is the anti-tabloid, covering good people trying to change bad things. Let's make this thing bigger than TMZ.)
M2k Tekno