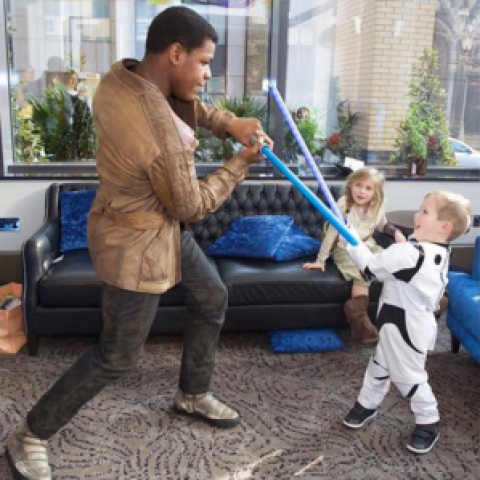 Star Wars actor John Boyega stayed in character when he went to The Royal London Hospital recently to hang with a 5-year-old boy with a brain tumour whose wish was to meet "Finn," the Stormtropper in 2015's The Force Awakens.
The wish was granted by Rays of Sunshine Children's Charity, a U.K.-based children's charity formed in 2003 to lift the spirits of children, ages 3-18, "who are living with serious or life-limiting illnesses."
"This little stormtrooper Daniel [Bell] had a wonderful wish after seeing The Force Awakens," Boyega posted on his Instagram and Facebook pages.
"Daniel currently lives with a brain tumour and rather than having Finn to himself, he wanted Finn to meet the kids at the Royal London hospital and give them some toys.
"I stayed in character while I was with this brave boy asking him what a car was. He taught Finn about everything earth related! Really thankful for the opportunity this child granted me and I'm just humbled! I hope I played a little part in making you smile young stormtrooper."
One of the photos show Boyega teaching Daniel how to use the famed lightsaber.
"A massive thank you to John Boyega for granting five-year-old Daniel's greatest wish to meet Finn from Star Wars: The Force Awakens," reads a post on Rays of Sunshine's Facebook.
"He also helped Daniel fulfill his wish of brightening the lives of other seriously ill children when he visited The Royal London Hospital and delivered them some toys."
Nike Lunar Force 1 Duckboot Black/Metallic Silver/Anthracite 805899-003 Free Shipping, Price: $75.67 - Air Jordan Shoes