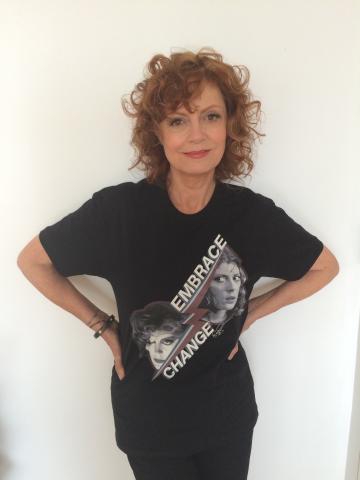 Actress Susan Sarandon has quickly surpassed her goals on a Care2 petition, asking opponents of the Dakota Access Pipeline to withdraw their money from certain banks until they divest from Energy Transfer Partners, the company in charge of the project. The petition also endeavours to pressure President Obama to take action in halting pipeline construction by calling for an Environmental Impact Statement.
The original goal of 50,000 signatures, started on Nov. 2, was upped to 85,000 and is now just 75 names away.
Native American tribes and their supporters have been protesting the 1,172-mile Dakota Access Pipeline, a planned project that would carry hundreds of thousands of barrels of crude oil through multiple states every day. Pipelines are known to be high-risk environmental hazards, largely due to leakage; the DAPL would disturb sacred burial sites and stand to pollute the Missouri River, the Standing Rock's Sioux Tribe's only source of drinking water.
The Standing Rock Sioux tribe has opposed the DAPL since 2014, but the situation has gained international attention in recent months, and along with that attention, several celerity advocates have joined the charge, including Mark Ruffalo, Shailene Woodley, Neil Young, and Susan Sarandon.
In a Care2 press release, Sarandon says, "This is not a partisan issue, ad it's not enough to just be sending tweets and posting to Facebook. If we can't go to North Dakota, we have to put our money where our mouth is and withdraw our money from the big banks that are funding this pipeline. I want my Care2 petition to catalyze a movement to hold the big banks accountable."
The financial institutions backing DAPL include Wells Fargo, Chase, Bank of America, and Goldman Sachs.
Care 2, according to its website, is "a community of 37 million standing together for good…starting petitions and supporting each other's campaigns to help individuals, animals and the environment."
The petition asks supporters to go to their banks (Bank of America, HSBC, UBS, Wells Fargo, Chase, Citibank, etc) and film themselves withdrawing money while stating that until they divest from Dakota Access Pipeline, supports will take their business to Federal Credit Unions. They then ask supporters
tweet the video: #BankExit I'm divesting from @WellsFargo @Chase @Citibank @HSBC_US until they say #NoDAPL http://bit.ly/2ffFr01 cc: @BarackObama
Patike