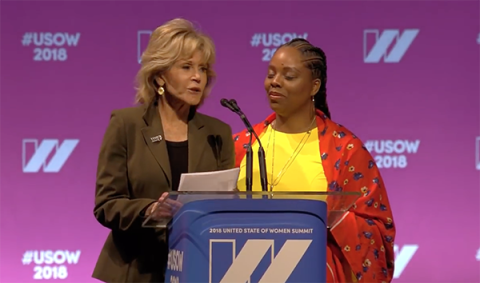 Activist and actor Jane Fonda teamed up with Black Lives Matter co-founder Patrisse Cullors for a fiery speech at the 2018 United State of Women Summit on May 5 in Los Angeles, tackling topics such as systemic racism, the War On Drugs, and how poor and working class people need to work toward their shared interests, regardless of their race.
"When Trump was elected and the toxic bedrock of white supremacy in this country was exposed, I realized something," Fonda began, Cullors by her side, "I've been involved with progressive movements most of my adult life, but because I am white – I am white [laughs] — I realized that the lens at which I had been looking at race was too shallow. So I'm studying."  Her opening lines were met with claps, before she continued.
She went on to say that "it takes more than empathy. It takes intention, to even begin to comprehend what people of color, no matter their class, face every day. And how much privilege quite unconsciously, is given those of us born white. Even the poorest of us."
The United State of Women, which puts on the summit, is "a national organization for any woman who sees that we need a different America for all women to survive and thrive — and wants to work collectively to achieve it. USOW amplifies the work of organizations and individuals at the forefront of the fight for women's equality, and provides tools, access and connections that help women see and step into their power to break down the barriers that hold women back."
The Summit is "a powerful gathering of women and allies from across the country who know their energy and power will break down barriers that stand between women and full equality."
The event first took place in 2016 with appearances from the likes of former first lady Michelle Obama, then-U.S. president Barack Obama, Oprah Winfrey, and many more. The 2018 edition took place May 5-6 and featured Michelle Obama once again among its guests, along with speakers like U.S. Olympian Aly Raisman, former presidential senior advisor Valerie Jarrett, Jen Welter, the first female NFL coach, and many more.
Fonda used the much of her speech on a narrative tale that compared the relative differences between two single mothers, one white, one black, who both were working poor and had to do two or three jobs, and who both had one son who consumes small amounts of marijuana and another son who's addicted to opioids.

In Fonda's example, the black sons would face a series of challenges their white counterparts never would. All with the end result of these young black men ultimately being intentionally left unable to participate in the modern society.

"Young black men are by definition, 'trouble,'" said Fonda. "Where you live all drugs are considered criminal activity. Addiction in your community isn't considered a public health crisis, or an existential identity crisis. Oh no, no clinic is going to be built in your neighbourhood.

"None of this is an accident. It's part of a strategy, a strategy developed in response to the gains made by blacks during the civil rights movement ... it's called the War On Drugs and it's increased our incarcerated population from 500,000 in 1980 to over 2.5 million today. The War On Drugs has been intentionally designed to maintain a new racial caste system without ever being accused of racism."

Fonda also advocated for ending the War On Drugs and the construction of new prisons and suggested that racism needs to be overcome to support the greater good.

"Racism allows the one percent to deceive the white working class and poor people into believing that although they may be suffering at least others are worse off," said Fonda. "Racism is what keeps poor people and working class whites from aligning with blacks to identify and topple their common enemy."

In Cullors' short speech that followed, the Black Lives Matter co-founder supported Fonda, calling her "the whole truth," before using her time to explain her brother's experience in the U.S. penal system and to discuss how she had been working towards jail reform measures in Los Angeles County.

Ultimately, Cullors and fellow advocates are hoping to get funding for L.A. County prisons reduced and instead have that money redirected towards community initiatives.

"We can make sure the lives of others turn out differently," said Cullors.
WATCH Fonda at 1 hour 45 mins in:
M2k Tekno