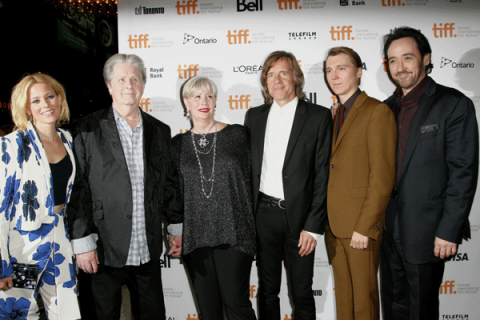 John Cusack sounds just as excited to talk about giving as he does about how extraordinary a songwriter Brian Wilson is, the Beach Boy he portrays in the new film, Love & Mercy. The award-winning actor of such classics as Grosse Pointe Blank, High Fidelity, Say Anything and Being John Malkovich, established the JPC Foundation in 2000 in Illinois and gives annually to various local charities.
"I always think it's my favourite time of year," Cusack tells Samaritanmag when he was in town for the Toronto International Film Festival. "I take a percentage of everything that I earn and I put it into a fund and at Christmas I just write the cheques. The weirdest thing is it's my favourite thing to do. I can't wait. And I can't wait to sign off."
Among the causes he supports are the Chicago Coalition for the Homeless, Greater Chicago Food Banks Depository, Michael Rolfe Pancreatic Cancer Foundation and American Refugee Communities.
According to mission statements on their respective web sites, Chicago Coalition for the Homeless "organizes and advocates to prevent and end homelessness because we believe housing is a human right in a just society." The Greater Chicago Food Depository has "one goal, one mission, to fight hunger, one dollar, one meal, one person at a time until the day no one goes hungry." The Michael Rolfe Pancreatic Cancer Foundation, based in Chicago, "serves as a catalyst for early detection research while providing support for the well being of pancreatic cancer patients and their families."
And beyond Chicago, American Refugee Communities "works with its partners and constituencies to provide opportunities and expertise to refugees, displaced people and host communities. We help people survive conflict and crisis and rebuild lives of dignity, health, security and self-sufficiency."
"It's important to vet who you give things to," says Cusack, "because there are a lot of places where it goes to overhead or it's just a PR thing, but these are organizations I know do really hands on work.  I kind of go local where I live."
There is also another cause on which he sits on the board of directors and that is the Freedom of the Press Foundation, started in 2012 to support and defend "public-interest journalism focused on exposing mismanagement, corruption, and law-breaking in government."
Cusack tells Samaritanmag the Foundation is "helping journalists that are under siege and helping the First and Fourth Amendment. It's got some pretty amazing people on the board, like Edward Snowden, Daniel Ellsberg, Glenn Greenwald and Moira Boistress. That's a pretty good group."
Under his bio in the 'Board of Directors' section, it says he is a political activist and regularly speaks out and writes on issues of human rights, government transparency, and accountability—amongst other things.
"Well, I've just been studying," Cusack says. "I've been moonlighting in some politics. I do some editorial work, not with my name on it but I just do stuff because I've known a lot of writers and people in politics so I think it's important.
"If you can't really have a free press then there's no hope, if you don't have journalists who can go out and do their job and not get fucked over by the government or by corporations or anyone else who wants to stop journalists. It's just an important tool for people to have information."
The world is yours – Neue Sneaker, Apparel und mehr für Kids