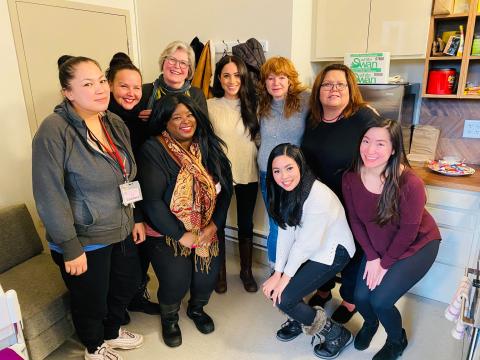 "Look who we had tea with today! The Duchess of Sussex, Meghan Markle, visited us today to discuss issues affecting women in the community," reads a post accompanying a photo, as proof, on the Downtown Eastside Women's Centre's Facebook page.
The post was made Tuesday night.
The Vancouver organization features an emergency shelter, drop-in centre, and various programs from advocy to Chinese senior outreach to victim services and healing circles to skills development.  It also serves 500 hot meals a day.
"The Downtown Eastside (DTES) neighbourhood is well-known within Vancouver and even across Canada for its disproportionate levels of poverty and extreme marginalization," it reads on the about page.  "Home to many vulnerable populations including those who are homeless, mentally ill, and/or with addictions, it is also a place known for its creativity, community activism, and tenacity in the face of tremendous stigma."
According to statisics from the charitable organization, women make up 40 percent of the downtown east side, 69 percent say that women-only services are safest for them, however women's services are only allotted 4 percent of all Vancouver Coastal Health (VCH) funding to the DTES.
It then goes on to reveal that of the more than 250 service providers in the community, seven are women's organizations and only three designated as women-only spaces.
(Please support Samaritanmag's original journalism by making a PayPal contribution or EMT transfer using  info@samaritanmag.com so we can increase the amount of content and writers we hire. Samaritanmag is the anti-tabloid, covering good people trying to change bad things. Let's make this thing bigger than TMZ.)
Supreme x Chucky Coming FW20